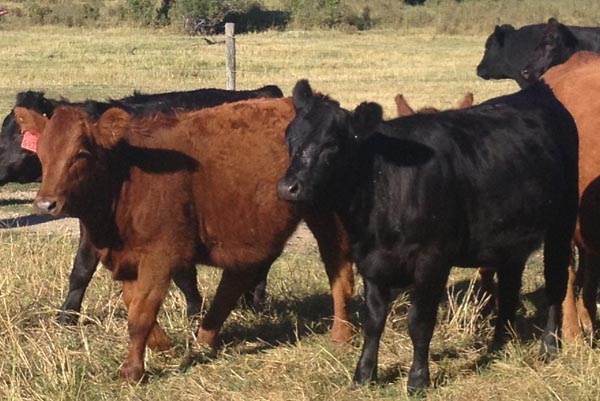 Simply-inherited traits are those where one or just a few genes control the phenotype. Coat color, horned/polled status, and many genetic conditions fall under the category of simply-inherited traits. A Punnett square is a handy tool to predict expected progeny outcomes of simply-inherited traits from a specific mating. To use a Punnett square, you should know the genes involved with the trait, the genotypes of the parents, and whether certain alleles (variations of the same gene) are dominant, recessive, or somewhere in between. Some tips to remember when using a Punnett square:
All animals have two copies of each gene and pass along one copy to their offspring.

An individual with the same two alleles for a gene is homozygous. An individual with two different alleles of a gene is heterozygous.

In traits with complete dominance, like coat color, an animal needs only one of the dominant alleles to display the dominant phenotype. An animal needs two recessive alleles to display the recessive phenotype.

Some of the cells within the Punnett square will have different genotypes but the same phenotype. For instance, with a completely dominant trait, the heterozygotes will appear the same as the homozygote dominant animals.
Example: Coat color, a simply-inherited trait that exhibits complete dominance.
Alleles: E = black and dominant, e = red and recessive
Mating: A heterozygous black sire with a heterozygous black dam
Progeny outcome: In this example, 25% of the calves will be homozygous black (EE), 50% of the calves will be heterozygous (Ee), and 25% of the calves will be homozygous red (ee). As the black allele is dominant and it only takes one black allele to display the black phenotype, 75% of the calves will have a black coat color (EE and Ee calves) and only the homozygous red calves will have red coat color (25%, ee). You can learn more about how to use a Punnett square by reading A Punnett Square: A tool to Help Manage Simple Genetic Traits.