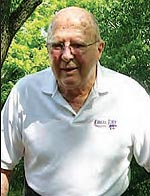 Dr. Robert Schalles was many things to many people. He was an educator, mentor, animal scientist, cattle breeder, leader, husband, father, and loyal friend. On June 19, at the age of 85, he passed away at the Good Shepherd Homecare and Hospice in Manhattan, Kansas.
Born in Durango, Colorado, Schalles graduated from Ignacio High School before joining the US Navy, serving from 1954-58 with the Pacific Submarine Fleet. Following his military hitch, he earned his Bachelor's degree from Colorado State University, then matriculated at Virginia Polytechnic Institute to obtain both his M.S. and Ph.D. degrees. Subsequently, he served 32 years as a professor of Genetics in Animal Science and Industry at Kansas State University (KSU), before retiring in 1998.
His expertise in population and quantitative genetics coupled with beef cattle management enabled him to contribute significantly to the animal breeding, genetics, teaching, and research programs at KSU. He is also credited with the development of an innovative and practical research focus relevant to the needs of the US beef cattle industry.
Schalles served on the graduate committee for fellow KSU professor, Dr. Michael Dikeman, and the two remained fast friends for more than 40 years. "Bob always focused on the role of genetics in practical, real-world beef cattle production," Dikeman said. "Among many major accomplishments, he helped establish the Kansas Bull Test, ran a ground-breaking research project on feed efficiency and authored a booklet titled Genetics of Coat Color in Cattle, that was extremely important since Simmental cattle were being discriminated against because of the diluter gene."
In 1993, he was elected to the ASA board for the first of two three-year terms, including a year as Chairman in 1997-98. In 1999, he was honored with ASA's highest honor, the Golden Book Award.
Former ASA CEO Dr. Jerry Lipsey admired Schalles' instincts with regard to data collection and animal breeding. "When ASA started our Carcass Merit Program, I wanted to test the "hot" bulls but Bob, who was on our board at the time, insisted that we test the "legacy" bulls instead — and he was right!" he said.
"He had an innate ability for collecting, understanding, and evaluating beef cattle data," Lipsey continued. "As a student at Virginia Tech, he was among the first there to use the main campus computer for analyzing data."
Former Trustee Willie Altenburg concurred with Dikeman and Lipsey. "Dr. Schalles was a leading geneticist during the Simmental transition period that included polled; scurred; color, including black, red, diluter/rat tail; plus the inheritance of spots, stripes, and white on the face and back feet. It was a complex mix of traits, but he understood it and could explain it in a way that even this simple cowboy could understand," he recalled.
In 1956 Schalles married Betty Sewell who passed away in 1996. In 2000, he married Daisy Fielder, an administrative assistant in the KSU Animal Sciences and Industry Department.
In addition to Daisy, his wife of 20 years, Schalles is survived by four children: Philip (Leanne), Larry (Susanne), Karen, and Glen; a brother, Harold; three stepchildren: Mark (Jill) Fielder; Lisa (Kendall) Lynn; and Jana (Brian) Grimm. Also remembering Bob are 14 grandchildren; and 18 great-grandchildren. A brother, John, preceded Bob in death. "Dr. Bob was instrumental in the way Simmental changed in the '90s, all while being one of the most pleasant and patient board members I knew," Altenburg added "Bob was a fabulous professor and friend. I'll never forget him," Lipsey concluded. "He was a very good friend," Dikeman offered. "You always knew where Bob stood, either from a beef production standpoint or as a personal friend. He was a great supporter of Simmental cattle and the American Simmental Association."
Details

Created: 12 September 2020
Hits: 1100