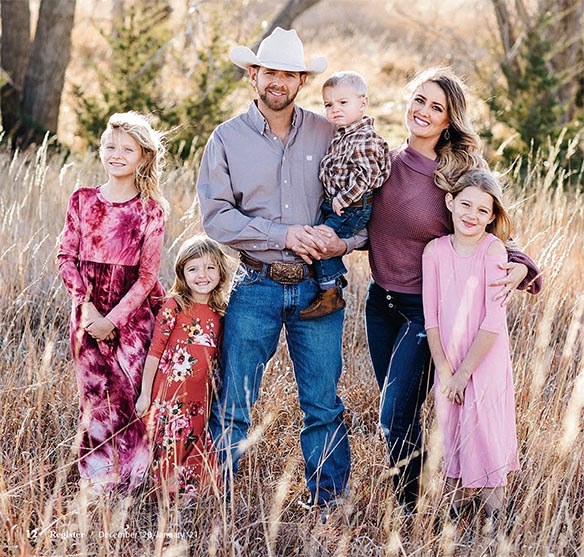 Justin and Jade Herl started Diamond H Ranch with 25 females, and through smart, steady management, have built a successful seedstock business.
Justin and Jade Herl have built a successful Red Angus and Simmental seedstock operation from the ground up and are dedicated to genetic improvement and customer satisfaction. The first-generation producers both became interested in agriculture at a young age and made the commitment to start Diamond H Ranch out of their passion for cattle and the beef industry. Their females are at the heart of the business and their red SimAngus™ bulls have gone into herds across the country. They have a dedicated customer base and are extremely focused on fostering relationships in the business.
Building From the Ground Up
Capital is the number one barrier for young people interested in the cattle business. For the Herls, getting started came down to pure determination and hands-on labor. Justin and Jade grew up in the Hays, Kansas, area. Both have large families and many relatives who own businesses; seeing hard work turn into success laid an important foundation for their future. The high-school sweethearts were married soon after college and following other endeavors working in the industry, decided to start a business of their own.
Justin, who studied Animal Science and Beef Production Management, worked at the Fort Hays State University Beef Unit, at RX Cattle Company, also located near Hays, and after graduation, took a job as a ranch hand. Through these experiences, he realized that he wanted to build his own operation and that Red Angus females would be the base of their herd. Fourteen years ago, with the purchase of 25 registered Red Angus females, Diamond H Ranch was started.
Justin recalls, "We bought our first quarter of ground with a house and a couple of rundown barns on it right before we got married. At the same time, RX Cattle Company was selling out and retiring. We had the opportunity to go in and purchase the select group of cows that we wanted."
Initially, the ranch had very little infrastructure, and what was there required work. Fortunately, Justin's father owns a contracting business, which he has helped with for many years, so building comes naturally. In addition, he was able to build fence, weld corrals, put up barns, and construct anything else that was required to get Diamond H Ranch up and running. "Sweat equity is how we managed through the money to get to where we are now," Justin says.
Shortly after, they met a neighbor who had 2,500 acres of ground available to graze. This opportunity allowed them to add to their herd. Justin recalls, "We built fence for the first several years of our business, but we were, and still are, very grateful for the opportunity to grow and expand our operation."
Jade's skillset has also been utilized and strengthened while building Diamond H Ranch. She studied Marketing at Fort Hays State University and soon after developed a passion for photography. Between the two, Jade designs advertisements, maintains the website, creates the sale catalog, keeps track of data, and takes photographs. Her eye for design and knowledge of cattle have allowed the Herls to put themselves on the scene with eye-catching ads and high-quality photographs.
Establishing a Business
To build a cow herd, they focused on creating a solid genetic base, utilizing both Red Angus and Simmental. Through a systematic crossbreeding program, they have been able to bridge the gap in their continual quest to create balanced animals that will fit multiple scenarios and environments.
Hybrid vigor plays a huge role in their operation. "Our first bull purchase was a SimAngus bull from Lynn Pelton, and that's when we started raising crossbred bulls and females," Justin explains. Lynn Pelton, Pelton Simmental, and Red Angus, Burdett, Kansas, became an important supporter of their business throughout the years.
The Herls chose to jump headfirst into the seedstock business for a number of reasons. Practically, they knew they would have to do something with added value to set themselves apart from other operations. "We wouldn't have been able to grow like we have if we focused strictly on a commercial herd," Justin explains. For the first 10 years, the Herls sold bulls exclusively by private treaty. "For the first seven or eight years, we didn't sell a female off of our place. The bulls carried the load," Justin remembers.
Beyond finances, Justin and Jade are both detailed, driven people, so the idea of being able to do more behind the scenes with genetics was appealing. "I have a real passion for matings and genetics," Justin explains. "I love to see the outcomes. Jade and I are perfectionists, and when you're geared that way you are always trying to do the best.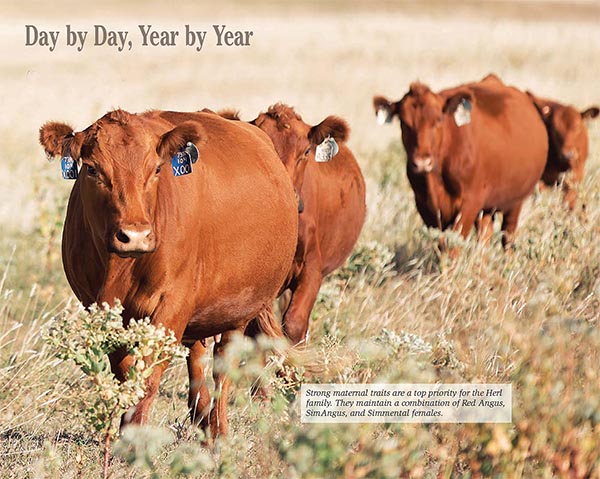 You're always trying to make the best product, and be as good as you can be. We're trying to be one of the best breeders out there."
Getting onto people's radar as a new producer was difficult at first, but some of the first Diamond H Ranch customers continue to attend their sales to this day. "Our first catalog went out and it wasn't much," Justin laughs. Jade adds, "It was more of a flyer than a catalog. It was four pages. But our customers stuck with us and kept coming back and for that, we are extremely grateful."
Justin continues, "Our first phone call was from Lynn Pelton and he was a big help. I know there were a couple years when we were first getting started, where he was having a large bull sale and moving numerous females too, and he would get done and send us customers because we were doing something similar. He helped us sell bulls, which was very gracious of him. He offered guidance and advised us with the genetic side of things too."
Four years ago, when Pelton decided to move away from a production sale, he gave the Herls the idea of holding a production sale of their own. Justin explains that their bulls did not sell as well as they hoped, "That year was a big wakeup call. We thought we had made a mistake but it was the worst year possible to start a production sale. Bulls hadn't sold well anywhere. We took our lumps and moved on. Since then it has gotten better."
Selling bulls truly has gotten better since that first sale. Today, they sell around 70 bulls annually, and a select group of females, both registered and commercial. Diamond H Ranch genetics are being put into other seedstock producers' herds with more frequency each year, and bulls have sold into states ranging from New Mexico to Maine.
Quality Cows Make Powerful Bulls
Before people knew Diamond H Ranch bulls, their females were gaining attention. Starting with high-quality Red Angus females was part of this successful equation. "I love the disposition of Red Angus and their mothering abilities," Justin explains. Jade adds, "Disposition is extremely important. We have four young kids who help us quite a bit and if they can be around them, then the cattle can be around anyone."
Simmental genetics were brought in for a number of reasons. Justin continues, "The two breeds meshed well together in every scenario I had seen them in. I loved the fact that when we started doing more hybrid work we were able to fix some of the problems I thought Red Angus had at the time, like structure. Simmental brought a really nice thickness of bone and a better foot to the Red Angus side."
Focusing on SimAngus was also an opportunity for the Herls to set themselves apart from the already established purebred Red Angus operations in their area.
"We have primarily built our cow herd from our own female base," Justin explains. "Females have been our focus since day one. I've always been big on maternal traits, and I think the best bulls come from the best cows. Today, more people know us because of our females." This strong female base has been producing the kind of bulls that the Herls are proud to put out into herds across the country. The top bull calves are selected each year to be developed on a high-fiber ration and sold in March at their annual sale.
Justin explains, "I want balance. I like to look at every bull and see if he has balance. EPDs and numbers are one thing — you want a bull that can do many things well — but I need to be able to look at that bull. Maternal traits are a big focus. I like to sit down and look at a set of EPDs first. I want to see around 10 EPDs where the bull is in the top 30% or higher, and then the rest is structure, depth, shape, depth of hip, rib, how they travel, and disposition. I don't single-+trait select or try to move just one thing."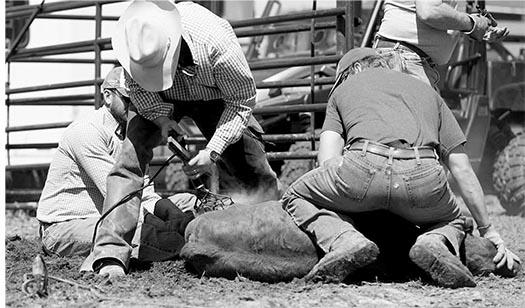 The same general philosophy holds true for female selection. The Herls like to look back at cow families and find confidence in the past performance of each pedigree. "I base a lot on their mother's and grandmothers' production records," Justin says. "We don't flush a young female. We want to see what she can do out in the workforce and how well she will hold up over time."
An average of five donor cows are flushed each year, and the embryos are implanted in younger registered females. Justin explains that while they have tried purchasing commercial recipients, they want to know that if an embryo settles, the resulting calf will be raised by a female that will milk and mother well. Additionally, if the embryo doesn't settle, they will still have a registered calf by one of their herd bulls.
Data collection and utilization is a part of the daily management of Diamond H Ranch. Beyond standard measurements, the Herls pay close attention to fertility and conception rates, cow efficiency, and DNA testing is also utilized. They publish as much information as possible on their sale animals and want each customer to be able to see the strengths and weaknesses of each animal. Jade explains, "That's partially why we do register with Red Angus and ASA; we want to be completely transparent. We want our customers to have the information they need in order to make the purchasing decisions that work best for them and their operation."
Building Relationships
Building new relationships, and making sure customers are taken care of is vital to the success of Diamond H Ranch. When they first had access to the 2,500 acres of leased ground, there was much more grass than they had cows, so Justin went back to a few of their first customers and purchased a selection of their commercial heifers. They then developed and bred the females, and sold them as bred replacements. While this decision was initially based on utilizing all of the grass, Justin soon found that this was also a great opportunity to support their customers. "I realized how much of a relationship we could build with our customers. They appreciate that I am willing to spend money with them like they are spending money with me, and it does make it easier for me to market the females knowing that the genetics are at least half ours." They will have around 150 open commercial heifers at their upcoming sale.
Justin makes it a point to attend sales, visit customers' ranches, and have a presence at industry events. If he cannot be there, Diamond H Ranch is a member of Allied Genetic Resources (AGR), so they trust that if they cannot be at a sale in person, or be somewhere to market their bulls, the AGR team will take care of them. The Herls strongly encourage potential customers to visit their ranch as well. Building in-person relationships is a goal for Diamond H Ranch. Jade explains, "Technology is one thing that has changed the livestock industry. Having everything at the touch of a finger sometimes makes it hard to get people to your place. But if you can get them to come look at your cattle and be around them, I feel like it makes a big difference, and is a part of marketing."
Diamond H Ranch now also works with Jade's sister, Chelsea, and her husband, Trent Mauler. They run a cooperator herd for the Herls out of Great Bend, Kansas. "Trent and I have similar views and he's been great to work with," Justin says.
The families enjoy working together, moving cattle, branding, sorting, and preparing for the sale each year, most of which is done on horseback. Justin enjoys roping and the whole family rides. "Our horses are family and they are just as much a part of this operation as we are. They even assist us when we photograph the cattle." Jade explains

As first-generation producers who have found success, the Herl's story has piqued the interest of other young people wanting to get a start. Justin explains, "To get into this business, capital is a huge deal. You either need to have it or be willing to sacrifice a lot of sweat equity and time. It takes money management and hard work."
He also explains that he had to keep his impatience in check, and advises that others do the same. "If I've learned anything in this business, it's don't try to do it all in one big shot. Don't go out and leverage yourself by buying a huge bunch of registered cows right out the gate on a loan and expecting it to work. We've been able to sustain and grow because it's been piece by piece, year by year."
Jade and Justin take a lot of pride in what they have built and are also raising their four kids, Aly, Graycee, Brynn, and Stockton, to be a part of the ranch. Justin says, "The most rewarding thing for myself personally is being able to build something from the ground up, I have a lot of pride in that and it is very satisfying to be able to share that with our kids. We are watching them learn and grow in this lifestyle, and they will always understand the value of a dollar and hard work." They run the ranch largely by themselves, along with some help on the busier days. "We couldn't do what we do without the support of our family and friends," Jade explains, "Plus, a little faith helps too, even in the most trying of times. We don't always understand the tests that come our way, but by staying faithful and pushing forward, we know that one day we will understand and we will be better for it."
Details

Created: 17 January 2021
Hits: 1003