A Little About Smith: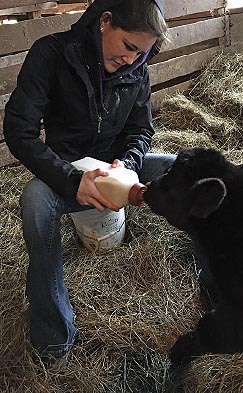 Fourth-generation cattle rancher Cara Smith grew up on her family's cattle operation, where she currently lives and works while attending the University of North Carolina Greensboro for a bachelor's degree in Nutrition and Wellness.
When she graduates in December 2021, Smith plans to work in nutrition as an advocate for animal agriculture. She says, "My plan after graduation is to get a job in the nutrition field educating people about the importance of nutrition and agriculture. Being an advocate for both the nutrition and agriculture industry is something that is extremely important to me."
Her family: Thomas (brother), Elaine (mom), Craig (dad), Pawpaw Jim, and she work together daily to run and operate Steeple Creek Farm in Pleasant Garden, North Carolina. The family runs 170 head of registered and commercial Simmental, Angus, and SimAngus™ genetics. Prior to 2012, the farm was completely commercial using either Simmental or Angus bulls. When Smith and her brother started showing cattle, the family started to use embryo transfer and AI to improve herd genetics. Smith recalls, "I purchased my first registered purebred Simmental heifer in 2014. Since then we have continued to grow our Simmental herd and use Simmental genetics." The family's herd goal is to raise SimAngus replacement heifers as well as percentage and purebred Simmental bulls. Each year, the family goes through cows and sires to make breeding choices together.
For Smith, she can't remember a day that she wasn't helping in some way on the farm, "Even as a toddler I remember standing in a five-gallon bucket that was tied to a gate so I could safely watch as my parents and grandparents worked cattle."
In addition to working cattle, Smith helps put up hay, feeds, keeps herd records up-to-date, and anything else that needs done on the farm. In her spare time, she enjoys cooking, doing puzzles, hiking, riding bikes, and spending time with family and friends.
2020 AJSA President Cara Smith answers questions during an interview with ASA Editor Emme Demmendaal.
Demmendaal: Share your involvement with your state association and ASA.
Smith: I have been a member of the North Carolina Junior Simmental Association since 2014. Our association is very small and since I have been a member, we have not had any official officers, but it is continuing to grow each year. I have helped serve lunch at our annual meeting and sale as well as encouraged participation from those showing Simmental cattle.
What were your thoughts as you became an AJSA member, Trustee, and AJSA President?
When I became an AJSA member I was excited to see what the association had to offer. I have shown heifers, a bull, cow-calf pairs, and bred and owned. I have enjoyed the competition of the shows and the growth I have achieved through the contests.
When I decided to run for the Board I was really nervous because I hadn't been involved with the AJSA very long. I was also very excited to run for Trustee because no one from North Carolina had ever served as a Trustee. Once I was elected, I was extremely excited to have the opportunity to serve and give back to our great association. I am so thankful and honored to have the opportunity to serve every AJSA member, my fellow Trustees, and the Simmental breed. I want to encourage juniors to believe in themselves and challenge themselves.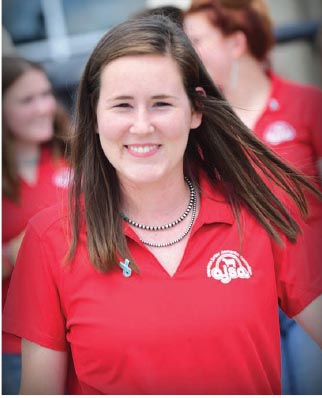 What would you like to see accomplished during your term as President?
This past year has been nothing close to normal, so I just try to stay positive and look for ways to learn and grow from these challenging times. I may not be able to accomplish everything I wanted to while President, but that's okay.
I would like to see a team-building activity at Regionals and National Classic. Personally, as I look back, I see the value and growth I gained through the contests, especially the Interview contest. I will continue to be an advocate for the great educational contests and programs offered through the AJSA and ASA.
What are your feelings with regards to the new IGS Youth Leadership Summit? How was it received among your peers?
The IGS Youth Leadership Summit is something I have never had the opportunity to attend. I have always wanted to attend, but due to conflicts and prior obligations, I have been unable to attend. I have heard great things about the activities and leadership opportunities at Summit and look forward to attending in 2021 and engaging with Simmental, Shorthorn, and Gelbvieh breeders from across the country.
Any particular AJSA events or experiences that are especially memorable to you?
The most memorable AJSA events for me personally are National Classics. Not just one, but all four that I have been to. I love everything about the National Classic. I have experienced everything from placing near the bottom of my class to winning Reserve Purebred Cow/Calf pair with my brother. Then of course the most unforgettable was being elected as a Trustee and then President. I have learned so much from each experience. I am grateful for the friendships and memories made over the years.
What are the strengths of the AJSA program?
The AJSA programs and contests teach so many life skills that will be used long after members have aged out of the junior programs. The rule requiring juniors to participate in contests sets our Association apart from other associations. These contests are in place to push and educate the juniors to learn new things, get involved, and to be advocates for the Simmental breed and agriculture. At the same time each time we participate in public speaking, learn new facts for a test, interact with a potential buyer, or participate in an interview, we are also learning leadership skills. These important skills can be used in all areas and will help us be successful in and out of the show ring.
What advice would you offer to juniors who are reluctant, for whatever reason, to become involved in AJSA programs?
I know that the AJSA may seem intimidating because they require that you participate in contests at the Regionals and National Classic, but those contests are there to help you better understand our cattle, the Simmental breed, and educate others. These contests still make me nervous and intimidate me, but the important thing to do is continue to push yourself and learn something from every contest you participate in. It is not all about winning but instead striving to do your best. You will not regret pushing yourself, but you will regret wondering what you could have accomplished.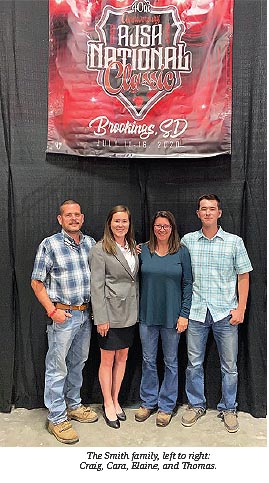 Comment on the value of the following ASA programs:
Steer Profitability Program (SPC) — The SPC teaches real-world planning, perseverance, and provides networking.
American Simmental-Simbrah Foundation (ASF) — The American Simmental-Simbrah Foundation does an amazing job of supporting the AJSA through the Merit Awards. I have been fortunate to have received my Bronze, Silver, and Gold Merit Awards. My main goal when running to become a Trustee was to get more juniors involved in the Merit Awards.
the Register and SimTalk magazines — It is important to keep members up-to-date with the latest advances in science, events, and accomplishments. The Cow Sense helps the juniors by making them more knowledgeable of the beef industry and prepares them for contests at the Regionals and National Classic.
How significant is it for ASA to be recognized for leadership in the science of animal breeding?
Breeding is the foundation for future improvement. Through the diligence of the ASA members, our Association continues to lead in the improvement of the beef industry. To be recognized for the contributions of the ASA creates positive acknowledgment of our association which in turn encourages continued growth and improvement.
What should be the role of SimGenetics within the beef industry?
Our goal as beef producers is to provide safe nutritious beef that consumers can afford while producers make a profit. SimGenetics has contributed greatly to the beef industry and Simmental breeders are vital to this success. By maintaining focus on maternal and carcass traits, SimGenetics will continue to be a vital part of the success of beef producers.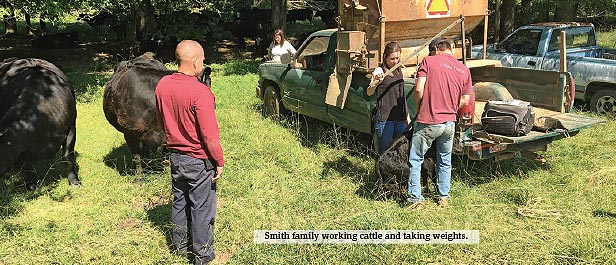 Details

Created: 05 February 2021
Hits: 908