Lanting Enterprises strategically selects top Simmental and SimAngus™ genetics for their commercial buyers.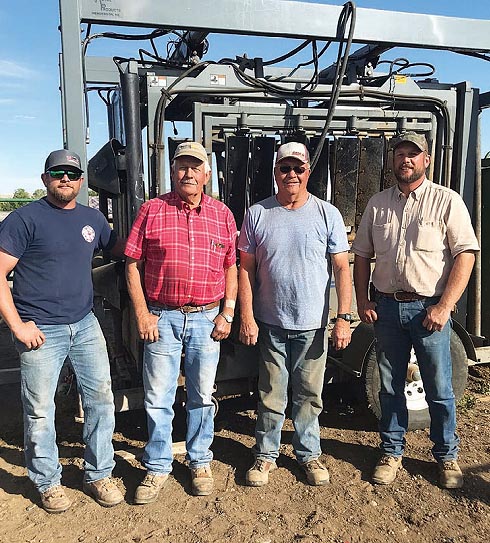 Seedstock operations that pay attention to detail, take consideration of their customers' needs, and plan for future generations are worth noticing. The Lanting family, who has built a successful third-generation ranch and farm alongside a second-generation veterinary legacy, fit the bill.
On the high-desert plains of southern Idaho, just 30 miles north of the Nevada border, Lanting Enterprises manages 315 head of seedstock Simmental and SimAngus™ cows. Through strategic selection decisions, dedication to improvement, and hands-on management, the operation develops performance-oriented bulls built for handling the rocky rangeland that characterizes the western US.
The family splits management responsibilities between the different business ventures but collectively remains committed to creating quality genetics for their customers.
Built on Simmental
Dating back to 1940, the operation was started by William Lanting, who initially ran cattle and farmed. When Simmental was introduced to the US in the 70s, William and his three sons were sold on the breed. The operation tried Hereford, Charolais, and Limousin, but found Simmental worked better for their environment.
"Simmental yield grades, carcass value, and the average daily gains were better," says John Lanting, second-generation on the operation. Throughout the years, the operation transitioned from the traditional red and white Simmental to the modern solid black or red Simmental and SimAngus cattle. "As a general rule, Simmental was a docile breed that we could handle. They fit our situation."
The breed's efficiency in the desert climate made them a more sustainable choice to maintain. With a medium frame score, the cows kept their condition, milked well, and weaned off large calves all while traveling the rugged Bureau of Land Management (BLM) terrain and grazing without additional supplementation, just quality loose mineral.
"We're about a mile high in elevation on a high-desert plain. Our cows maintain a good condition and are still producing heavy calves," says Chase Lanting, John's son and general manager for Lanting Enterprises, "Crested wheat is not the best feed in the world, but we're not feeding too much protein. We use a loose mineral program with salt blocks. It's helped us increase our actual weaning weights by almost 80 pounds."
Lanting Enterprises pays close attention to retaining uniform females in the herd that breed back each year and calve in a 60-day window. Typically, the cow herd averages about 1,200 to 1,400 pounds with a body condition score of 5 to 6. While they recognize that Simmental has a spotted history for tall, lanky cows, they actively breed for a thick, moderate-framed cow. John says, "In our cow herd, we look for average milk and frame with some thickness to them. When we select heifers, we send larger-framed, horsey cows down the road."
Every cow is expected to have a calf each year, and while they are mindful not to ding a cow for something that wasn't her fault, the cow needs to raise a calf each year. He explains, "There will be maybe five cows each year that might get special treatment because a calf froze or something that wasn't her fault, but she'll still raise a grafted twin calf. As a general rule, they're gone if they don't calve."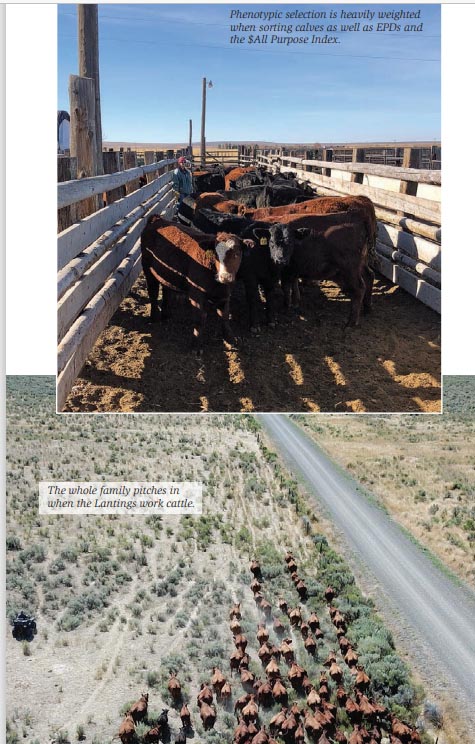 Bulls Built to Perform
The initial transition to selling seedstock bulls began when John's oldest niece, Jody, started in 4-H. Local cattle breeders liked the Simmental steers the Lantings were developing and started buying bulls private treaty off the farm to use in their herd.
ll seedstock operation that sells 50-70 bulls annually, while also backgrounding and selling the animals that don't make it to the bull development and replacement heifer pen
Between hands-on management and meticulous bull selection, the family finds that their private treaty bulls offer their customers a little bit of everything. Chase explains, "Every aspect of each bull is looked over so that he can perform and keep our standard up for our clients. We spend time selecting these bulls for sale, but most often Dad spends more time hand-selecting bulls that will work for our customers' cow herds. All around, we need our bulls to be good and trustworthy."
The first round of bulls is sorted at birth. Any bull born over 90 pounds is cut and will be backgrounded and sold to a feedlot after weaning. In addition to a moderate birth weight, the bull needs to be structurally sound and well-muscled. He says, "Each bull has to have muscle, not be wastey in the front, have good shoulders. Overall, some of these bulls go out to some big pastures, and they've got to be able to perform year after year. They need to be well-structured all the way around. Good feet. Flatback. Thick."
While phenotypic selection is heavily weighted, EPDs and the $All Purpose Index ($API) are heavily used to make selections. John explains that each bull needs to be in the top 25% for $API, "We're focused on numbers so we can sell a bull that you can run on heifers and not have calving problems, but produce calves that also grow well."
In addition to $API, the Yearling Weight EPD is a key factor in performance selection. Chase adds, "Yearling weight is a good standard for us. Since we are selecting a lower birth weight calf, he's kind of starting off a little bit smaller, but if they can get up and go and get to that yearling weight, that's an EPD we're really looking at in our bulls, and in our herd. We're looking for a calving ease animal that can perform at yearling."
To ensure accurate EPDs at selection time, the Lantings actively report all phenotypes on the whole herd to ASA — from birth weights, weaning weights, docility, and more. In recent years, they have considered participating in DNA research projects to test their entire cow herd and calf crop.
"If we can make the numbers on our cattle more accurate, especially with DNA, we can improve our own selection process, but also if buyers happen to be looking for a certain trait, we can help them make more informed decisions," says Chase, "Information is knowledge. We want to have EPDs as a tool in our toolbox to help our clients."
Each bull sold comes with a first breeding season guarantee to ensure customer satisfaction. He continues, "Our Simmental and SimAngus™ bulls are muscly, structurally sound with balanced EPDs. We've discovered that we may be heavy-handed in cutting bulls, but since we're pretty strict on what we do and don't keep, our genetic quality is pretty high."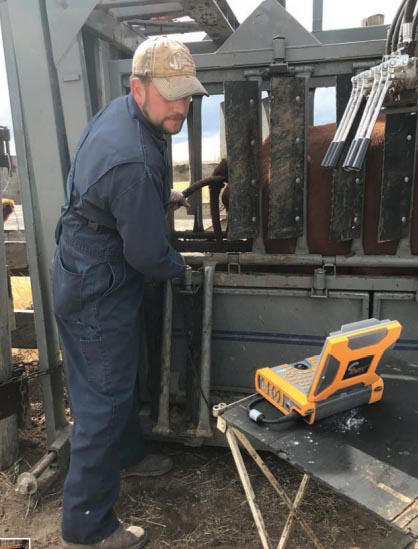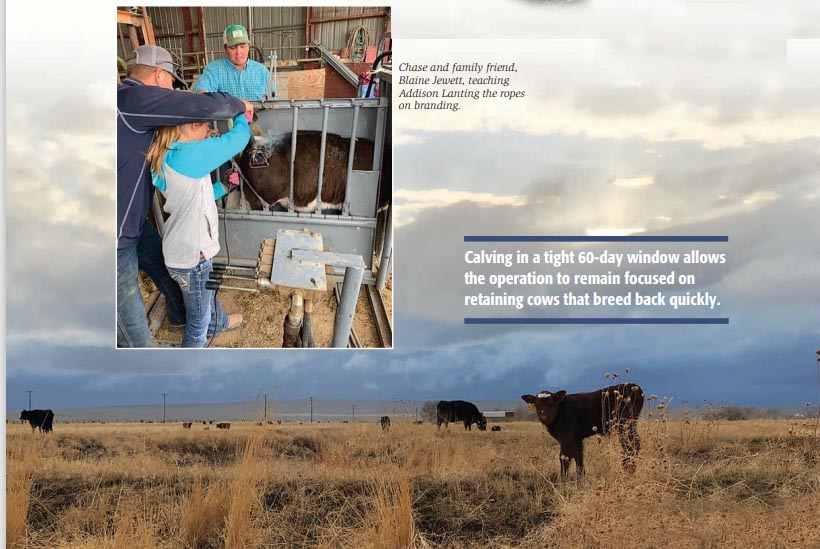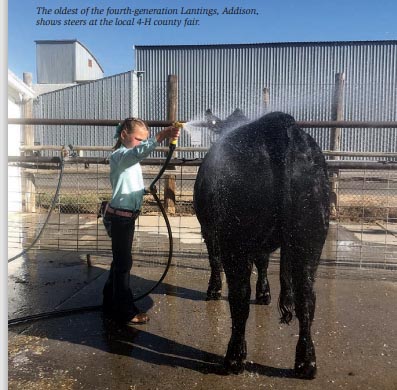 A Legacy Built on Diversification
Currently, Lanting Enterprises is owned and operated by John, his older brother, Jim, and John's two sons: Chase and Todd. John handles most of the day-to-day cattle operation needs; Jim is the mechanic and manages the crop-side with his wife, Louise; Chase works as a general manager, including planning crop rotations and cattle data; and Todd runs the veterinary business and helps with farm work and maintenance during the summer. While each family member has their own area of focus, each helps out wherever needed.
Every year, the operation farms around 1,500 acres of silage corn, alfalfa, malt, barley, and wheat while running their cattle on another 1,500 acres of pasture and 4,500 acres of BLM land. As a part of an ongoing transition of the diversified operation, Chase and Todd purchased their uncle and aunt, Bob and Rhea Lanting's, shares of the operation a few years ago. Bob, former ASA Chairman of the Board of Trustees, handled bull marketing and daily tasks on either the farming or ranching side as needed. Moving into retirement allowed Chase and Todd to continue the Lanting legacy as third-generation ranchers and farmers.
Chase shares, "Our grandpa worked hard to build this operation for my dad and his brothers. Todd and I wanted to keep that going. So, we bought a third of the operation from Uncle Bob, and when Uncle Jim and Dad are ready, we will transition the operation to solely Todd and me."
After finishing school, John started a veterinary business called Lanting Veterinary Services specializing in beef cattle. He built the business while simultaneously working on the farm. Today, with John working full-time on the ranch, Todd, who followed his father's footsteps in earning a veterinarian degree, took over management of the veterinary practice and now travels throughout southern Idaho and northern Nevada for customers. John's wife, Carolyn, handles the books and administrative duties for the veterinary clinic and is pivotal in the business's success.
Both Chase and Todd are raising their children, the fourth generation of Landings, on the ranch with the hope that they might be interested in taking over one day. Chase and his wife Brook, who is a dental hygienist, are the parents of four-year-old Odin and 9-month-old Lillian. Todd and his wife Jenni, who owns and operates a small animal veterinary clinic, are the parents of Addison, 11, and Kelton, 8.
From breeding to planting, and raising the next generation of agriculturists, it's never too soon to plan for the future. Chase explains that if their children want to be involved in Lanting Enterprises, they will help them get their foot in the door, "Todd and I knew we wanted to be here, and we want our kids to see the direct result of doing a good job selecting cattle or raising that hay crop. It's rewarding, doing good work, and we hope to pass that onto them."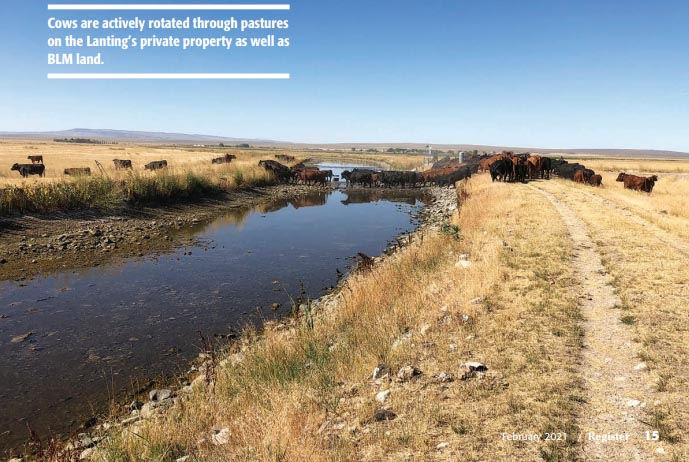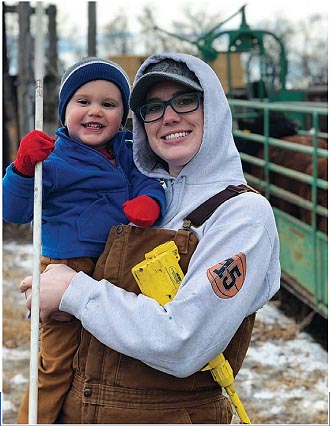 Photo on the left, left to right: John, Todd Lanting, and Jenni Lanting working calves.
Photo on the right: Brook and Odin Lanting helping sort calves with the family.
Details

Created: 12 February 2021
Hits: 1018