When our first quarter-blood Simmentals hit the ground, they were just exceptional," shares Arlen Katterman of Kattle Bell Farm, Hale, Michigan, describing when he and his father purchased their first half-Simmental bull in 1974 to use on their commercial cow herd, "What a difference just twenty-five percent Simmental makes with the hybrid vigor in calves."
While the Katterman family has been sold on Simmental since they purchased their first half-blood bull, the operation wasn't new to the cattle industry. Arlen's grandfather, John Dooley started farming in the 1930s. During the '40s, Dooley along with other local farmers created a co-op sale to sell feeder cattle. Since then, the operation has sold cattle each year in October with an established customer base that trusts the performance of their feeder calves.
Throughout generations, the Katterman family has remained committed to developing quality feeder calves by tracking herd data and implementing progressive herd-selection decisions that capitalize on advancing reliable, profit-focused genetics faster.
Kattle Bell Farm sells high-quality commercial SimAngus feeder calves while continuing the family legacy.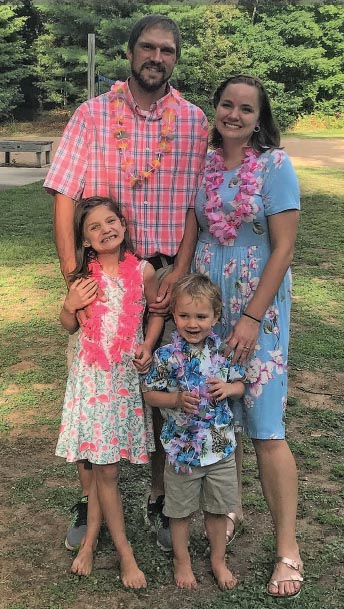 Andy and Dana Katterman with their
two children: Kiley and Lincoln.
Choosing "Know"
While Kattle Bell Farm previously used Durham, Hereford, Saler, and Limousin in their operation, they continue to use Simmental and Angus crossbred cattle for the hybrid vigor, maternal traits in the cow herd, and quality of the carcass on the rail.
In the last 10 to 15 years, their selection decisions have made traction in the feeder calves and how their cow herd performs. Andy Katterman, Arlen's second-oldest son of five adult sons shares, "We're really liking the calving ease of the Simmental and SimAngusTM bulls we're buying, and we also like the milking ability and stayability in the herd. Overall, we just feel like SimAngus make good mothers. They take care of their calves and produce some high-weaning weight calves."
Arlen and Andy make bull selection decisions together. Structure, soundness, EPD profile, and performance numbers are the forefront of their conversations with an emphasis placed on ASA's all purpose index ($API). The index takes into account a balanced evaluation of sires on the entire cow herd with the goal of retaining daughters, and selling steers on feed to be sold based on grade and yield. Andy explains, "We look at genetics and structure but focus on a balanced animal. We want to keep milk and the calving ease in our herd while gradually increasing weaning weights and yearling weights. We emphasize $API and try to get bulls that are the top 20% of the breed. "
Each year, heifers are pasture bred mid-May to a high calving-ease bull and aren't exposed until they are at least two-years-old. Katterman says, "The cow is a little more mature at that age, and we feel we get an extra year out of them by not pushing them. I know there is criticism that you'll lose a year, but I feel like we're able to keep that cow in production longer."
While Katterman prioritizes using high-quality bulls in the herd, the right bull can only be chosen when they know what their cow herd needs to produce a calf that will perform for their customers in the feedlot. Initially, when making replacement heifer selection decisions, the female must have good feet and legs and be born in the first 21 days of the calving season. In addition to phenotype, the data collected throughout the year is weighed when choosing keeps and culls.
To know more about their heifers, the Kattermans report their calving records to ASA, and in turn, receive EPDs back on their commercial cows. They collect birth and weaning weights on the whole calf crop and yearling weights on replacement females.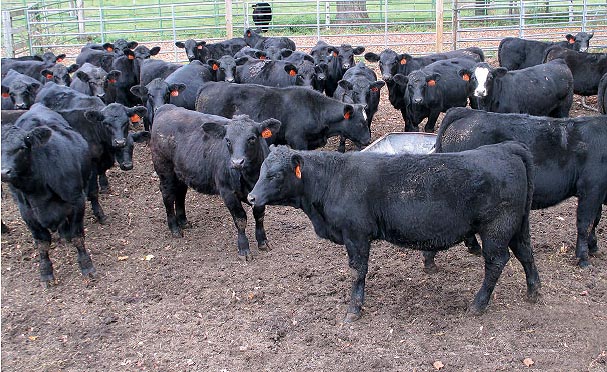 In addition to submitting phenotypic data to get EPDs back on their commercial operation, they also participate in one of ASA's DNA research programs that allow feedstock and commercial producers to genotype their entire cow herd at a discounted rate.
"We are trying to do a lot of things right, but sometimes you don't know how you're really doing. By doing Total Herd Enrollment and Cow Herd DNA Roundup genotyping, we know," Arlen says. The data on the cow herd
will allow them to more accurately pinpoint areas of improvement in breeding decisions that will ultimately improve the quality of replacement heifers and the steers they are selling to feedlots.
Andy adds, "Moving forward, we plan to take an average look at our cows' EPDs and then use that in deciding what bulls we need to select to start breeding. Right now our data reports say we need to improve carcass weight and marbling and we want to continue to crossbreed to get better genetics to produce better calves."
The decision to participate in the commercial THE option and DNA test the entire calf crop wasn't an easy decision for either Arlen or Andy. Despite the time, effort, and expense, they ultimately decided that it would be worth the investment to make a jump genetically and in profitability.
"We really sat down and discussed this decision, my dad, myself, and my brothers." Andy says, "We decided that if we want to improve our calves and our cow herds faster then we probably want those EPDs we're receiving from the association to be the most accurate. When we DNA tested all the cows, we sped up our process and increased the accuracies of the EPDs on the cows."
To bring the investment full-circle, Andy summarizes that the ultimate decision to invest in reporting the cow herd data and collecting DNA was to get a better understanding of the bull genetics they are purchasing, "We are spending good money on bulls so we probably should know what we need not just, 'Oh this looks like a good bull.' We figured it was worth it to know."

Producing Quality Calves
Calves are weaned starting in early September, but because the cow-calf pairs are spread over 2,200 acres in between eight to 10 pastures, weaning is completed over the first two weekends in the month when most of the family is available to help sort. The feeder calves are backgrounded until the end of October when most of the feeder calves are sold in the annual West Branch Feeder Calf sale. This last fall 125 were marketed in the sale. Any calves that are too young to go to the sale are backgrounded a few more months before being sold. Additionally, a handful is sold as freezer beef or kept for themselves each year.
Since International Genetic Solutions (IGS) came out with the Feeder Profit Calculator™ (FPC) in 2017, a tool designed to evaluate calves' relative value in a breed-agnostic manner based on management and genetic criteria, the Kattermans have been utilizing the certificate at the sale to leverage the genetics and hands-on management the operation maintains with buyers. Andy says, "We want to sell pounds but we also want to sell quality pounds as well. We run our calves in the FPC to gauge where we are and what we need to do to improve."
Arlen adds that they use this free certificate program not only for the buyer's use but also for the information it calculates for them on carcass quality, "The calculator shows that our yield grade is very good but our marbling needs work. So, we want to tinker with the marbling but we don't want to disturb what we're doing right. By getting EPDs on our cows, we'll be able to align things a little bit better. We can buy some bulls that will help move in that direction but maintain some other traits and EPDs that we're looking at too."
When selecting for performance, the Kattermans' emphasis on the end product, especially weaning and yearling EPDs allows them to make more progress than they did when they were focusing solely on birth weight and weaning weights. He shares, "We've been stressing birth weight, milk, weaning weight, but the last few years we've been looking at yearling weight because we want these calves to perform for us at weaning and the sale, but also they've got to continue to perform in the feedlot. We don't want our calves to hit a plateau."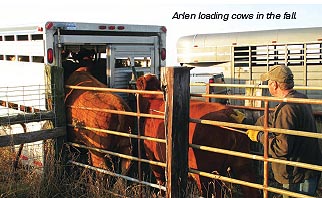 For Generations Coming
Kattle Bell Farm is truly a family affair. Each family member has a job off the farm, aside from Arlen, who retired from well drilling and keeps the growing operation's daily chores handled. Andy, who followed his mother's footsteps in teaching, says, "Since the '30s, the farm has just been passed down from one generation to the next, and we're just building our farm together little by little." In addition to the cattle operation, the
Kattermans grow corn and oats for use in the operation and also put up 1,600 round bales in addition to over 7,000 traditional small square bales. Arlen and his wife Barbara work with their five children: Klayton, Andy, Nick, Ben, and Dan on the farm.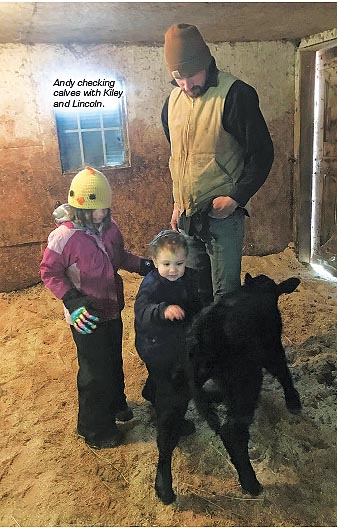 Their children help whenever or as much as time permits. Andy shares, "Whether that's driving a tractor, feeding, recording numbers, or fixing a tractor. Even if it's from afar. Everyone in the family has their skill set, and we do a pretty good job of utilizing everyone's skills and keeping them involved."
Arlen commends Andy's wife Dana, a registered nurse, for helping every spare minute she has. He laughs, "I don't know how my daughter-in-law does it. She teaches Sunday school. She's a nurse at church camps in the summer. She puts a lot into the community and still finds time to help on the farm."
Andy and Dana have two children, Kiley and Lincoln. Nick and his wife, Danielle, both spend many hours on the farm, and have one son, Ean. Klayton and his wife, Kayla, are the parents of Emily, Addisyn, and Bryan, who love visiting the farm to ride tractors and see the cows.
The fall feeder calf sale really brings all the families back to the farm to make a successful sale. The youngest generation is already showing an interest in continuing the legacy.
Each generation has made its own impact on the farm. Arlen recalls his father allowing him to incorporate Simmental genetics in the operation, and when Andy wanted to take a lead in the farm, Arlen supported Andy's decision to invest in reporting data and collecting DNA. Arlen says, "When I went to my father with the idea of going Simmental, he didn't say no. Our youth is the future. I want Andy and his brothers to be satisfied with what direction our farm is going."
Andy concludes, "I don't know what I would do if we weren't farming. It keeps me close to my roots, especially since I never got the opportunity to know my grandpa, but also it's a good way of life to raise a family."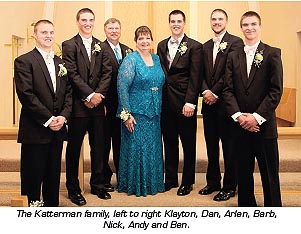 Details

Created: 12 March 2021
Hits: 727