Jason and Nikki Gress raise Fleckvieh cattle for the modern producer at Little Creek Cattle, Inc.
Editor's note: The Gress family was featured in ASA's Stand Strong Simmental video series in November of 2019.
The Simmental breed has always maintained a connection to its roots, with the traditional red and white Fleckvieh animals still holding an important place in the industry. For Jason and Nikki Gress, the Fleckvieh breed offers a lot to the modern commercial producer; Adaptability, fleshing ability, and maternal strength are all hallmarks of the breed. Little Creek Cattle was started by Dr. Mikell Davis in 1992 and transitioned to the Gress Family in 2016. Jason had worked for Davis during his time in veterinary school and their combined love for veterinary medicine and Fleckvieh cattle laid the foundation for Davis' decision to offer the business to the Gress family upon his retirement. Today, Jason and Nikki run a detail-oriented business focused on providing well-rounded Fleckvieh-based genetics to the commercial producer.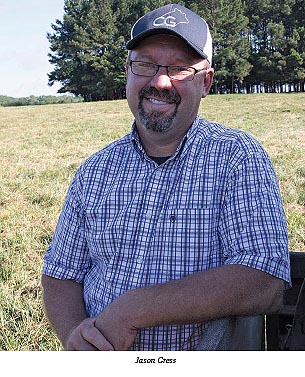 A Strong Foundation
The Fleckvieh breed is responsible for bringing Jason and Nikki together, as well as for the relationship built with Davis. The Little Creek business was founded by Davis, starting with a handful of polled Hereford, purebred Simmental, and Fullblood females. Two Fleckvieh heifers were added, which became the base for the cow herd. In 2004, Davis added Red Angus genetics to introduce crossbreeding to the program, keeping a purebred herd of each as well as combining the two. Davis started the Magnolia Classic sale, held each October. In 2016, the operation was nominated by the Breed Improvement Federation (BIF) for seedstock producer of the year, and Davis created a foundation focused on genetic improvement and promoting crossbreeding. Little Creek Cattle maintained a strong focus on AI and embryo transfer work.
Jason met Davis during his time in veterinary school at Mississippi State University (MSU). At the time, Davis was the director of student affairs for the School of Veterinary Medicine, and Jason had contacted him about the possibility of attending MSU. The two struck up a friendship, and Jason eventually worked for Davis at Little Creek Cattle. Jason moved back to Hagerstown, Maryland, where he started working as a veterinarian and raising his own Fleckvieh-based cattle. During this time, he met Nikki, who was looking for fullblood Simmental cattle for her daughters, Bailey and Hannah, to show. In 2014, they married and Nikki moved to Maryland.
Soon after, Davis mentioned his intention to retire and offered Jason and Nikki the opportunity to take over the Little Creek business. "We maintained a relationship with Dr. Davis and Little Creek, both from a friends and a family aspect, as well as with the cattle we owned and operated together. Dr. Davis was getting toward the end of what he thought his career would be in the cattle business and didn't really have family to take it over. Dr. Davis and I decided to continue the operation, and it transitioned over to myself, my wife, and my family," Jason remembers.
Davis' family was an important part of his business but didn't have an interest in taking over the full business. For Jason and Nikki, the opportunity allowed them to continue pursuing their passion for raising high-quality Fleckvieh cattle. Jason explains, "From our standpoint, starting in Maryland we also had a Fleckvieh base, and we also had the vision or foresight to develop that a bit more and get into different arenas. We pursued putting these Fleckvieh on purebred Simmental, Angus, and some commercial-type animals. We had somewhat developed our own project there."
Continuing the Fleckvieh Legacy
Merging with the Little Creek herd was a natural process. Davis had maintained a Fleckvieh herd, Red Angus herd, and merged the two with crossbreeding, which was the same path the Gress family was going down. Gress says, "Dr. Davis's original thought with that process was to create the ideal recipient."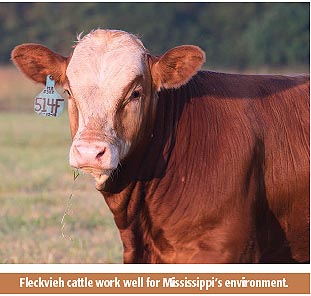 Jason, like Davis, has seen great value in the Fleckvieh breed since he became involved in the cattle business. The consistent desire to change and get ahead of industry changes has left some 'old-school' breeds in the dust, but for Jason, removing that stigma and focusing on the benefits the breed offers is essential. "We want to maintain our roots with Fleckvieh, but make sure we can provide as many suitable animals to as broad of an array of clients as possible," he explains. The dual-purpose origins of the Fleckvieh breed are something Little Creek Cattle takes advantage of. "Fleckvieh are truly a universal breed. The cattle have the body designed to dissipate heat, much like a lot of Zebu do. They have extra skin, which is for a reason," Jason says, adding that this same adaptability also makes the cattle very suitable for cold environments as well.
Data and genetic improvement are also important management principles for Little Creek Cattle. Jason says, "In my mind, using IGS [International Genetic Solutions] and similar systems is a management tool for producers. I am a believer that no one aspect of production should stand alone, but they all should be used as a tool to try to provide and develop the best genetics possible. That means we can take these animals, and we can identify our top 10%, our middle 50%, and our bottom end, and we can make management decisions appropriately and accordingly."
The past issues of the Simmental breed, like calving difficulty, are often associated with the red and white color, but through genetic selection operations like Little Creek Cattle have kept the good and bred out the negatives. Comparison using EPDs has also caused some in the industry to pass off the Fleckvieh breed. Gress explains, "We have gotten the stigma with Fleckvieh that they were inferior because of how they were originally introduced into the system with their EPDs. I think moving forward as we continue to improve how EPDs are calculated in addition to the new technology for genetics, that we get a better perspective and show what these animals can do to a larger extent not only in the fullblood or purebred situation, but also in a crossbreeding situation. Maybe it's a true picture of what the possibilities are with these animals."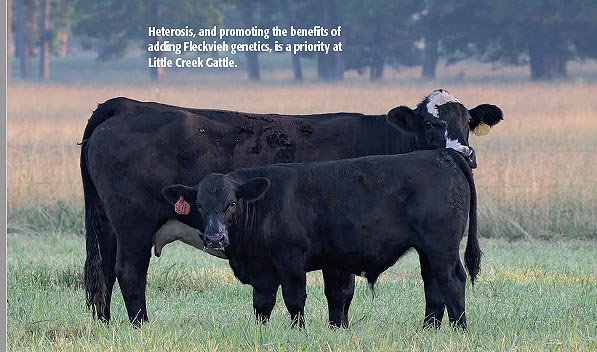 The Fleckvieh breed also offers a unique opportunity for producers wanting to take full advantage of heterosis. Jason explains, "What a lot of people may not realize and certainly should understand is that these full Fleckvieh cattle are not diluted at all. What that means is when you put them on any other breed, and quite honestly that includes purebred Simmental, you get about as high heterosis as possible, and develop that true F1." Little Creek Cattle has many customers who are taking advantage of this opportunity to increase heterosis in their programs. "They have continued to buy bulls and have done so because of the offspring they have gotten up to this point," Jason explains. "The weaning weights are up, we've infused some docility into the cattle; that's another strong point of the Fleckvieh is that with just a small percentage of outliers, they are known as a truly docile breed. That's a point we need to build upon and make people aware of. You get hybrid vigor for production purposes, and we can work on temperament."
Bulls are sold private treaty at Little Creek Cattle, with females being sold through the annual Magnolia Classic sale.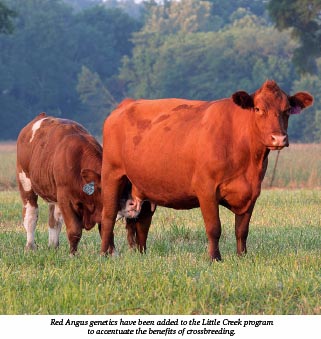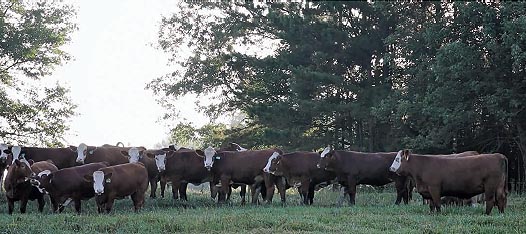 Fostering Family and Community
The Magnolia Classic sale, held each October, is focused on building community within the Fleckvieh breed. Little Creek Cattle hosts guest consignors, and has also introduced more opportunities for international customers by offering semen packages. The sale is focused on females, with bulls being sold private treaty throughout the year. Jason says, "We opened it up to consignors. We do that as a means to provide an avenue for other Fullblood breeders — we also want to provide an avenue for purebred and Simbrah breeders as well. We can draw a larger crowd, with individuals from Canada, Mexico and Australia. We are selling frozen genetics to Australia as well so it's truly international."
Family and community are essential to the Little Creek Cattle business and the Gress family. Their business was built upon their relationship with Davis, and they are continuing to foster these kinds of friendships themselves. The Gardner and Ellison families, who also raise Fleckvieh cattle, have become formal and informal friends to the Gresses. "We want to work together to provide as good a market for these Fleckvieh cattle as possible. Doing that, we are in contact quite often. Not only from a cattle aspect, but also as great friends. We're always there for each other," Jason says.

Mississippi is also dear to the Gress family. "Mississippi is a good home," Jason explains. "You can take a step back. It's a little slower-paced, and that's not a bad thing. The community is very engrained in being close, knowing your neighbors, and trusting in your faith. I think it's an excellent place to be raising children." The future of Little Creek Cattle is strong, with their modern spin on the classic Fleckvieh breed, and the Gress family believes that things will continue to grow.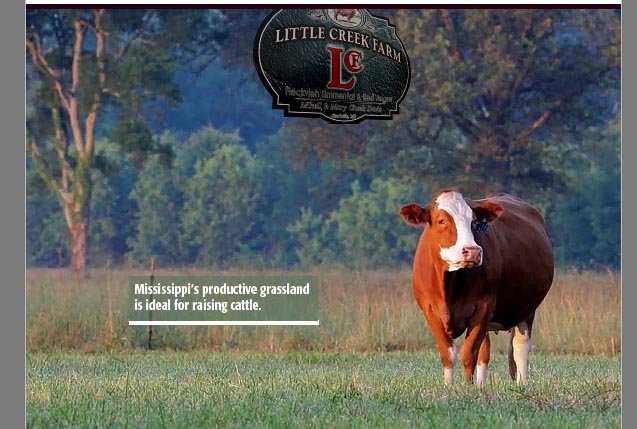 Details

Created: 27 March 2021
Hits: 719