ASA taps three individuals with a long-time affinity for SimGenetics to receive the prestigious World Simmental-Fleckvieh Federation Golden Book Award. |
Dan Rieder
Tom Hook, Hook Farms, Tracy, Minnesota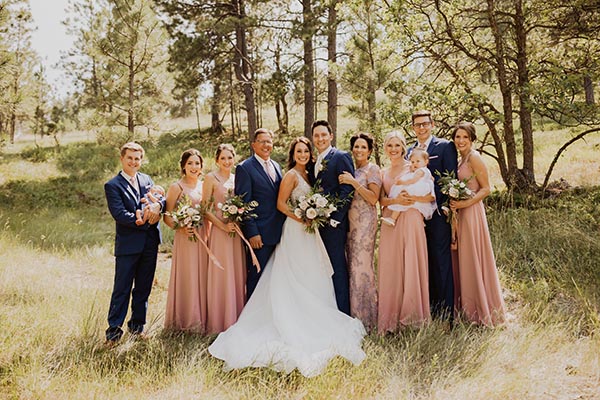 Predictable Seedstock
Tom Hook represents the fourth generation to work Hook Farms, succeeding his father, Eugene, who passed away on January 16, 2021, at age 88. They were among the earliest pioneers in the Simmental breed, receiving their membership number in the early 1970s, not long after this dual-purpose breed first put down roots in North America.
For most of the past five decades, Hook Farms has focused on producing predictable, profitable Simmental and SimAngus™ seedstock for customers across the nation and globally. Each February, Hook and his family, in partnership with the Wulf family of Morris, Minnesota, hold an annual Bred for Balance Sale, a title that aptly describes their breeding success.
A strong believer in performance testing involved in the science of cattle production, the Hook cow herd has recorded 50,000 DNA tests. They have been diligent participants in ASA programs, including the Carcass Merit Program, Performance Advocate Program, Total Herd Enrollment, and docility scoring. All bulls sold are semen checked before delivery.
A multiple-term member of the Minnesota Simmental Association Board, Hook also served a three-year term as a trustee for the American Simmental Association from 2018 to 2020, chairing the Beef Improvement Committee.
Much in demand as a cattle judge, he has handled many high-profile cattle events throughout the nation, including the pen show at the National Western Stock Show in Denver.
Hook and his wife Shannon are the parents of five active children: Joshua, Joseph, Cassandra, Sarita, and Annaka. In addition to his work within the cattle and farming sector, he is also very involved in the community, serving as chairman of his church, as a member of the Tracy public school board, as vice president of the local education foundation, and, with Shannon, as a volunteer for local 4-H. On occasion, they have hosted the University of Minnesota Judging Team for practice sessions.
Kevin Thompson, TNT Simmentals, Almont, North Dakota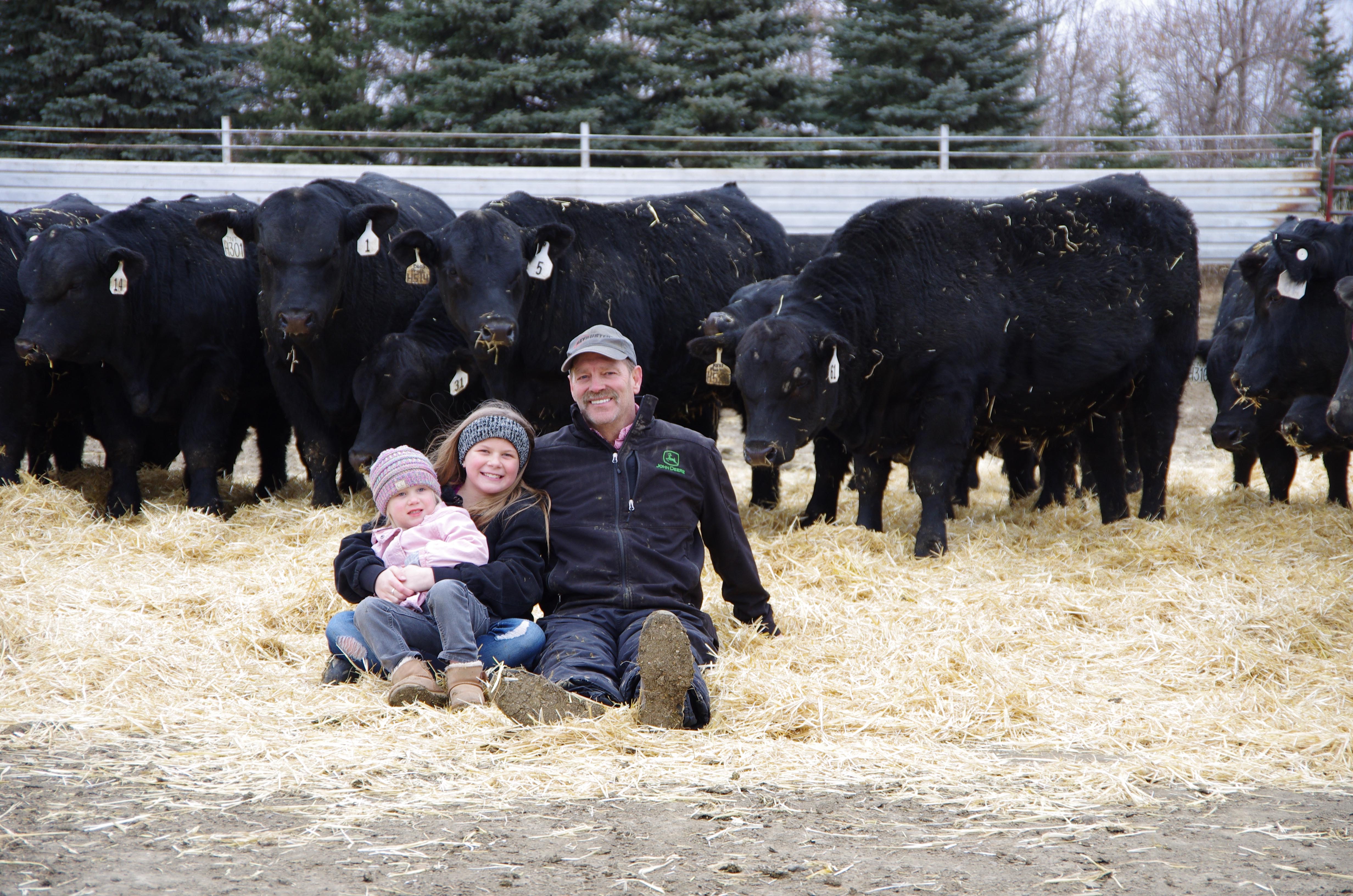 Kevin Thompson and two of his granddaughters, Dawson(10) and Dillon (3).
The Explosive Difference
Starting from scratch in the mid-1980s, Kevin and Lynette Thompson have spent 35 years building a nationally recognized and highly respected cow herd. Their 300-head TNT cow herd, located at Almont, North Dakota, consists of red and black purebred Simmental along with red and black SimAngus and a smaller herd of Red Angus.
The Thompsons have effectively marketed their genetics through an annual sale, the Genetic Explosion Sale, offering more than 130 bulls. Steers have traditionally been backgrounded before going to market, while the majority of heifers are bred to go back into the herd as replacements or to be marketed as bred heifers.
Breeding emphasis has been consistently placed on fleshing ability, performance, udder quality, and strong maternal traits. Their slogan "The Explosive Difference" accurately portrays the operation's focus on producing genetics that satisfies a long list of repeat, commercial bull buying customers.
Kevin is quick to credit Lynette for her role in their operation. As equal partners, she has worked alongside Kevin for the entire journey.
Throughout their long career in the cattle industry, the Thompsons realized the need for promoting and advertising the cattle they were selling. They also realized that there was strength in numbers and believed in carrying their share of that load. That's why Kevin served four three-year terms on the board of the North Dakota Simmental Association and spent two three-year terms as a member of the ASA Board of Trustees between 2007 to 2013.
The Thompsons are parents of a son and three daughters and are grandparents to 15 active members of the next generation. "Our grandkids bring us so much joy," Kevin said. The oldest daughter, Shanon Erbele, and her husband, Gabe, are taking the necessary steps to allow them to carry on the tradition of TNT Simmentals as Kevin and Lynette look ahead to retirement.
Parke and Nina Vehslage, PVS Simmentals, Brownstown, Indiana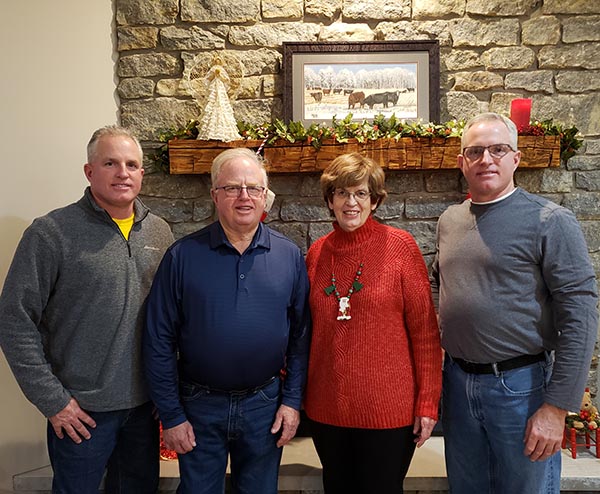 A Cattle Heritage
George "Parke" and Nina Vehslage were drawn to Simmental cattle back in 1972 when they artificially inseminated their registered herd of Shorthorns to the new European breed, which had arrived in North America a few years earlier.
Soon, Parke purchased a load of bred, halfblood heifers from a Cardston, Alberta, breeder along with genetics from the herds of Montana pioneers Emmet Butcher and Charley Emmons. By adding AI and embryo transfer, rapid genetic enhancement was achieved, and growth traits were balanced with maternal traits through planned matings.
Parke had grown up on his family's grain and livestock farm, which was founded in 1862, where cattle were purchased in Kansas City and shipped by rail straight to the farm.
Back in the early 1970s, Parke and Nina were instrumental in forming the Indiana Simmental Association. With Simmental legend Jacque Glenn serving as president, Nina became the organization's secretary and Parke took on the job of managing the first three ISA state sales. In addition, he was deeply involved in the formation of the IBEP bull-testing program.
PVS maintained a strong private treaty market over the years. In consultation with good friends Jeff and Leah Meinders and other like-minded, performance-oriented breeders, the Vehslage farm was chosen to host the first "Field of Dreams" sale, which began a successful run in 1996.
A graduate of the University of Kentucky, Parke had competed as a member of the University's livestock and meats judging teams. That experience led him to frequent judging of 4-H beef and hog shows, always teaching and encouraging young exhibitors in the process.
Their twin sons, Mark and David, are integral parts of the daily operation, and their grandson, Drew, is enjoying his involvement in the American Junior Simmental Association. After more than half a century in the cattle business, Parke says "we have decided to cut back our cow herd numbers and watch our grandchildren grow a little more."
Details

Created: 24 September 2021
Hits: 814