by Emme Demmendaal |
Located on the rolling farm and grasslands of Lost Springs, Kansas, Cow Camp Ranch produces profitable Simmental and SimAngus genetics for their commercial customers.
With deep roots in the cattle industry, Nolan Brunner and his father, Kent, develop a wide range of bulls proven to work for their customers and produce the carcass traits their buyers desire. The Brunner family has been involved in beef production from pasture to rail for decades, and producing profitable cattle is a long-time hallmark of the enterprise.
As this year's Beef Improvement Federation (BIF) Seedstock Producer of the Year, the family's commitment to collecting data and implementing a progressive breeding program highlights their dedication to profitability through science.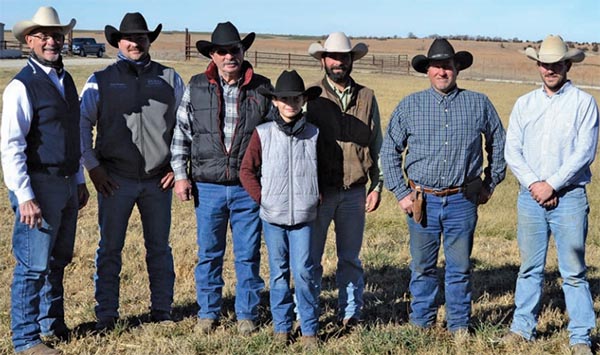 The Brunner family, left to right: Tracy, Tanner, Kent, Noah, Nolan, Mark, and Bryant.
As Simmental and SimAngus producers, the Brunner family provides their customers with diversified genetics that outperform in a cow-calf operation and in the feedlot.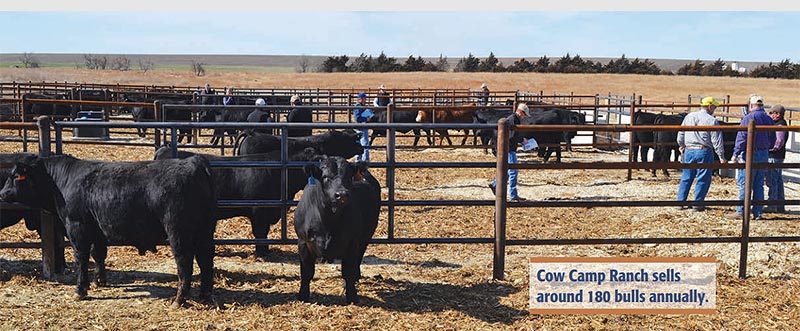 SimAngus: Performance Driven
"SimAngus is the whole package," Nolan shares, explaining that their customers are looking for a range of bulls from performance sires to heifer bulls. SimAngus can provide the terminal calf they desire while being able to keep their heifers in their herd.
"A large number of our bull customers retain their heifers and breed them back. They know and see the value of a good Simmental-influenced bull for developing a quality carcass, and they are able to retain their own heifers over buying something they don't know anything about."
In the beginning, Cow Camp Ranch used a range of breeds in their crossbred program, including Charolais and Santa Gertrudis, but concluded that they wanted to focus on Simmental and Angus genetics.
"We were always looking for performance; more weaning weight and more feedlot performance," Kent says, explaining that introducing Simmental and SimAngus genetics was the pivot from a commercial cow-calf operation to selling seedstock bulls. "Feeding cattle to finish, we knew we needed better genetics, and crossbreeding would be the first step to get performance. Simmental just really came to the top. SimGenetics cattle have all the attributes that our customers want in a commercial cow, and we just started registering those cattle and started selling bulls."
The operation was selling bulls by private treaty for many years, but in the early 1980s, Cow Camp initiated their bull and production sale. Around 180 bulls and 15–20 elite, spring open-heifers are sold in their annual spring bull sale, held the first Friday in February, and an additional 50–75 bulls are sold by private treaty in late spring or fall. In addition to bulls, 100 bred and open females are sold annually.
Each year, Cow Camp Ranch breeds over 800 cows to calve in the fall with a 50-head recipient herd bred for the spring. Pre-breeding and synchronization shots for the fall cows are given in mid-November. Each fall, 200–250 cows are implanted with embryos, while the rest are AI bred once before being put out with clean-up bulls.
For the Brunners, keeping a short 45-day breeding season and 60- day calving window is critical. Fall calving starts in late August and wraps up in October. Nolan shares, "We keep a pretty short breeding season. We're pretty critical of culling the herd to make that all-around successful bull or heifer. We want a maintenance-free cow herd. And as long as these animals have the same opportunity as the rest of the cows to breed, we just don't give them any excuses."
While breeding back and calving early is a priority, young cows that don't breed in that 45-day window are allowed one more shot as a spring recipient cow before they are sold commercially. Kent echoes Nolan, "It's economics. Our goal is to catch them on the first round of AI and first embryo while breeding them as close together, and as early as we can get them. So over their lifetime they will keep producing and stay in the herd."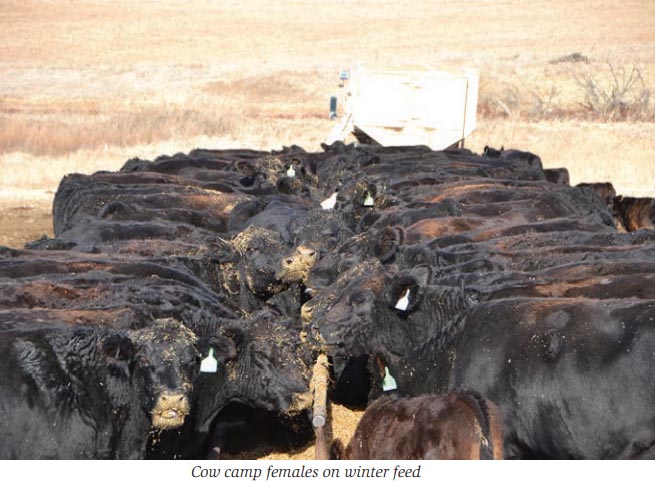 All-Around Animal
The Brunners are always selecting for the whole package in their cow herd, as well as the bulls and heifers they prep for the sale. A large portion of making breeding decisions is based on the data they are collecting on their cow herd and the carcass grading results from those genetics once they're on the rail.
"We're all-in on all the data, all the time," Kent says. "We're doing it to create the total package. We want the EPD, the genomics, the phenotypes, the feet, the disposition to align with our goals and our customers' goals."
Everything from birth weights, weaning weights, yearling data, and mature dam data is collected and used in their selection decisions. To ensure accurate EPD, the Brunners actively report all phenotypes on the whole herd to their association.
Nolan shares, "Collecting data and reporting it to ASA takes time and it's a slow process. But, if you're consistent with taking and reporting measurements, it pays off in the end."
In recent years, they have participated in ASA research projects to DNA test their entire cow herd and calf crop. "While we collect as much phenotypic data as we can, genomics is really coming to the forefront," Kents says. "DNA has started to separate cattle and change how we look at them. Your EPD accuracy improves and gives you a great prediction. Genomics keeps us from making selection mistakes." Another benefit to DNA testing is that all cows and calves are parent-verified and the accuracy of the EPD prediction increases. Nolan explains, "DNA testing the cow herd and each calf crop is another level of protection for us and our buyers. When reporting calves, the calves start with interim EPD. When phenotypic data are reported, the numbers may change a little bit. But when genomics is included, another level of accuracy is added to the animals. There's always a chance something moves in another direction, depending on how the cattle are mated. But, it's another level of security on what we're selling."
"DNA is another tool," Kent adds, delving into how Cow Camp Ranch tries to eliminate environmental and manmade biases that influence how animals perform. "Really, it's a third-party verification of phenotypes that we turn in. The EPD tells you what the bull should be. But incorporating genomics tells you what he actually is."
In addition to the DNA research projects, the operation has participated in ASA's Carcass Merit Program and the Carcass Expansion Project. Both projects are designed to collect carcass data on the progeny of sires to improve the EPD accuracy for that bull. Nolan says, "I think that's been really valuable to our herd by adding carcass data with the DNA into the EPD as well."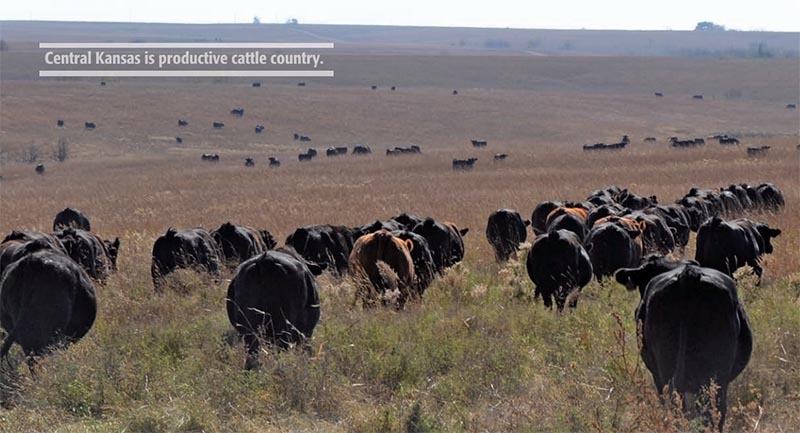 The Feedlot
While Nolan and Kent run the seedstock operation, Kent's brothers, Mark and Tracy, Mark's son, Bryant, along with Tracy's son, Tanner, manage the feedlot operation. The Brunner family started cattle feeding back in the mid-1900s. The feedlot expanded in the 1980s to include more pens and more outbuildings, giving the operation the ability to custom-feed groups of calves.
The feedlot capacity today is 9,000 head and feeds out about 18,000 animals each year. All the cattle that go through the feedlot are fed to finish.
Any animals that Cow Camp raises that don't go into the bull or replacement heifer program are sent to the feedlot. They also buy back a couple of thousand head of Cow Camp genetics from their bull buyers and place them on feed. Kent shares, "Our feedlot is predominantly Simmental-influenced calves and a large number are Cow Camp sired. Some of our bull customers will retain ownership, percentage of ownership, or we buy 100% of them. We try to source as many of our bull-customers' calves as we can. We buy those calves and we feed those through the feedlot, through the winter."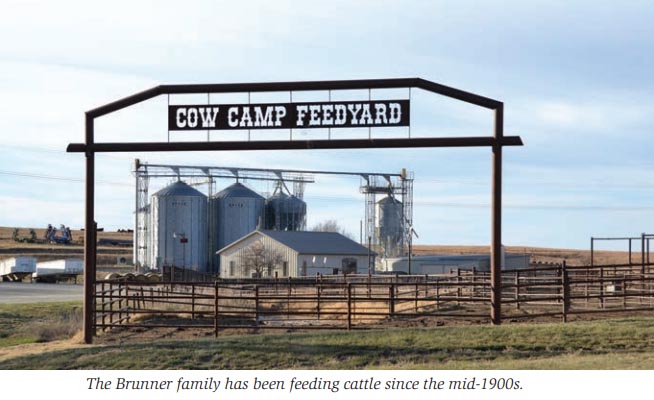 For the last 20 years, after harvest, the carcass data is returned, implemented into ASA's genetic evaluation, and used to find areas of improvement in their seedstock operation.
"Because we feed cattle and collect carcass data, a big part of our breeding program is geared to ensure our genetics will make money in the feedlot, while at the same time keeping maternal traits for the cow herd," Nolan says, explaining that paying attention to each segment ensures their customers' and their own bottom line. "There are good cattle in all breeds, but SimAngus calves are the best. They just do it all. They convert feedstuffs well and gain. They're profitable to feed, and the carcasses pay the most premiums."
Kent really stresses that the data has been helpful in improving their cattle. "Since we get the data back, we've really been able to pay attention to our marbling EPD when we're selecting for sires. We see it in the end result of these SimAngus calves."
He continues, "You see more Simmental-influenced calves in the marketplace. They were the best-kept secret for a long time, but the word's out. People are seeing that they work in all phases of the industry."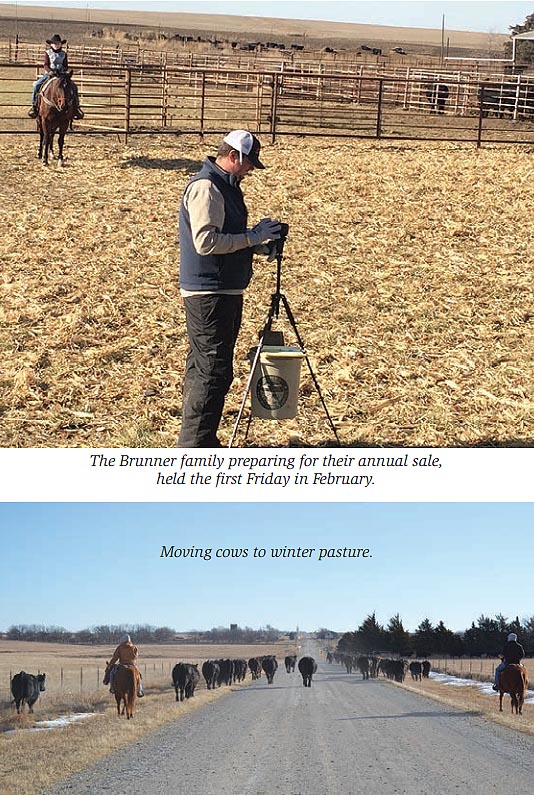 Focused on Sustainability
While Nolan and his two cousins are the fifth generation to run cattle on this property, Cow Camp Ranch came about in 1969. Kent recalls the operation's name coming from "camping" cows on rented pasture. "My dad was more of a cattle feeder, and we separated out the feeding operation and initially most of the cows got camped on rented acres. That's how the Cow Camp name came into being because we were camping cows at one location for a few months, and they moved to another camp."
Overall, the family naturally splits responsibilities of each segment of the Cow Camp legacy, but when planting or harvest time comes around, it's all hands on deck. The operation plants 3,000 acres of corn, wheat, and soybeans with additional cover crops, like oats and triticale.
At the end of the day, these cowmen credit the women in the operation for how easy the operation runs. Kent's wife Jean, Mark's wife Dede, Tray's wife Yvonne, and Nolan's wife Melissa are some of the largest assets, Kent says. "Our whole family, especially our wives are a big part of it. Whether it's moral support, reining us in, or feeding us up, we appreciate what they do."
Sustainability for the cattle and feedlot segments plays a large part in passing the operation down as many generations as they have. Nolan concludes, "Our family has been doing this for many generations, on the same land. So sustainability is a pretty big deal to us. We want to keep passing the operation and land down to the next generation. Keep it in the family. And keep it productive."
Details

Created: 09 September 2021
Hits: 636