As commercial producers, Two Bar Ranch of Deer Lodge, Montana, focuses on breeding cattle for their buyers and the end consumer. |
by Emme Demmendaal |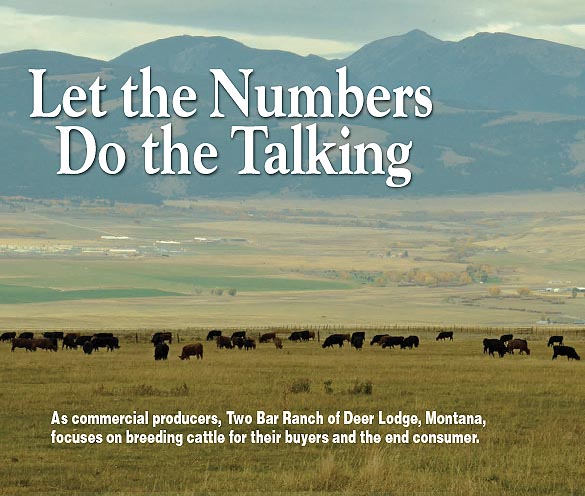 Running cattle in Montana isn't without challenges. Whether it's traversing the high-desert rangeland flanked by the mountains or facing long, cold, and windswept winters, cattle need to be sound, rugged, and hardy to thrive in an unforgiving environment. For Two Bar Ranch, located in Deer Lodge, Montana, SimAngus cattle do all that and more.
"We have an animal that can deal with our environment, which gets very cold or very dry depending on the time of the year," shares Kylie Johnston, part-owner and manager of Two Bar Ranch. "SimAngus has been the perfect cow for us. They produce the ideal quality of beef we want to provide the consumer."
With the Big Hole Mountains as a backdrop to their productive commercial operation, Two Bar Ranch runs more than 600 Simmental and SimAngus cattle over 10,000 acres of owned and leased property. The Johnston family remains committed to creating quality animal protein for consumers through strategic selection decisions, and dedicated to improving the cattle and sustaining the land.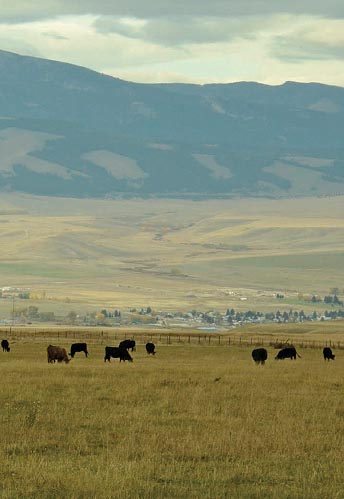 Founded on Simmental
The ranch has been in the Simmental business since the breed was brought to the US. Dating back to 1909, the operation has grown from 600 acres and 40 cows to approximately 3,000 acres and 600 head of commercial Simmental and SimAngus cows.
In the late 1960s, brothers Robert and Joseph Johnston were among the first thousand ranchers who joined the American Simmental Association. Theirs was membership number 951.
"Robert was the first to bring Simmental into the valley," recalls Kylie. Robert was her great-great-uncle, making Kylie and her brother Ethan the fourth generation to run the ranch. "Even back then, the Simmental outperformed. They travel better in higher elevation and mountainous country."
At the time, Two Bar Ranch ran primarily commercial Simmental cattle, but occasionally registered and sold a few bulls — a tradition that has continued today. Kylie notes that their Simmental cattle handle the elevation change, the low resources of high-elevation grazing, and cover large amounts of the rugged mountainside without problems, all while also weaning off a good calf. She says, "We need a cow to be problem-free, wean off a nice-sized calf, and breed back early. Our Simmental cows really do it all."
The high-mountain terrain requires that Two Bar Ranch females are hardy and adaptable.
Robert was an early adopter of artificial insemination and crossbreeding with Angus cattle. When Kylie's father, Evan, inherited the operation in the early 2000s, the first thing he focused on was updating the ranch with 21st-century innovations, and implementing the technology available to make better beef cattle faster. Kylie says, "We made real improvements to the ranch. We put in pivots, updated our buildings, and built a nice calving barn. We started collecting more data on our calves."
Kylie notes that the improvements to summer pasture irrigation made the most significant change in how far the cattle moved during the warm months. "The cows now can stay a little lower and have good access to water."
Around the time Evan started managing the operation, SimAngus cattle moved to the forefront of the industry. Kylie shares, "Dad always said that SimAngus was the best of both breeds. Simmental provided the size — a five- to six-frame score, high milking traits, and mother-ability — while Angus rounded out the muscle and marbling. Our SimAngus calves are unbeatable."
Ethan adds, "The heterosis that a little bit of crossbreeding added improved our cows' stayability in the herd, but also how the calves gain and the end carcass quality. Today, most of the cows are three-quarter Simmental and one-quarter Angus. We've seen that the three-quarter Simmental, one-quarter Angus calves have improved the carcass quality of our cattle."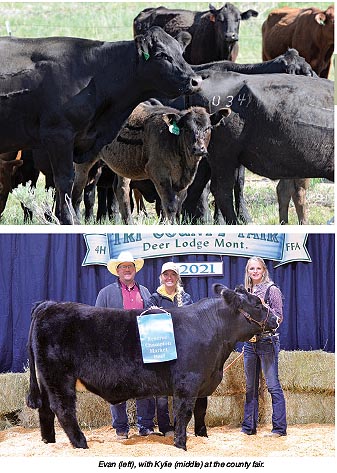 Two Bar Ranch runs commercial SimAngus cattle
Dedicated to Improvement
With 17 inches of annual precipitation and a 90-day growing season, implementing profitable practices is essential for Two Bar Ranch's bottom line. Kylie shares how AI breeding and using the top genetics in the herd has created a more uniform cow herd, as well as a well-matched calf crop at the end of the year. "We've used AI over the last 50 years, and it's helped introduce superior genetics and create a quality product for the consumer."
In the first part of June, all the replacement heifers and about 250 mature cows are synchronized using MGA pellets, and then AI bred one time before being put out with clean-up bulls. Kylie explains, "Dad always liked using MGA pellets because it is less expensive, easily mixes into feed, and doesn't require us to run the cattle through the chute more than necessary."
In the first four days after AI breeding, the cows are loaded onto a truck and moved out to ground leased from the Sparrow Grazing Association or the Con Warren. The heifers go to the Forest Service allotment and come home later than the cow-calf pairs. Kylie explains, "We try to get them synchronized, bred, and out to pasture as soon as possible. They are safe to travel zero to four days after AI, and don't force us to wait 45 days to get them moved."
Generations of rigorously selecting AI sires have improved Two Bar Ranch's genetics. Of the 250 cows selected for AI breeding, all are between three and seven years old, ensuring that younger genetics are used with proven AI bulls. She adds, "Many of the top heifers that we hold back as replacements are out of these AI-bred cows."
EPD and ASA's indexes like All-Purpose Index ($API) and Terminal Index ($TI) are essential when making selection decisions. Ethan says, "We're looking at a variety of traits like calving ease and milk, but we also use $API and $TI. When these calves get to the feedlot, we want them to take off and grow."
Making selection decisions for their herd has been easier in the last few years since they joined ASA's Total Herd Enrollment commercial option. By providing an inventory of their commercial cows and calving, weaning, and mature dam data, Two Bar Ranch receives information back on all heifers. The numbers they receive from the Association not only help them select the top replacement heifers in their herd, but they are also able to find areas they can improve in their herd.
Kylie says, "We submit our cows and calving data to ASA so we can improve our herd genetics and the efficiency of the cattle we sell. It's helped us remove cows that aren't doing their job. Realistically, we want to have the best group of cows we possibly can, and collecting and submitting data helps us do that."
In addition to numbers, the Johnston's pay attention to feet and leg structure. "One of the pastures our cows travel is 2,500 acres with about a thousand-foot elevation change. We need heifers that will move, mothers who will be up on the hill picking at grass, not waiting for us to come to feed them," Kylie explains.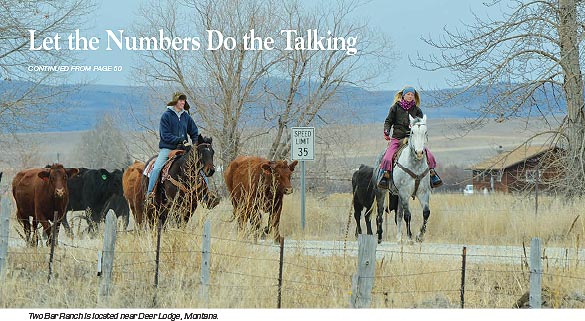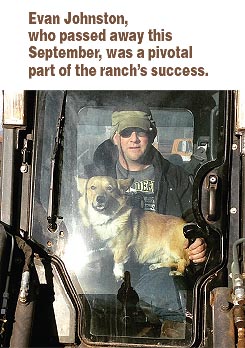 Evan Johnston, who passed away this September, was a pivotal part of the ranch's success.
On top of a low-maintenance cow, a quality udder and easy-to-handle disposition are a must. Kylie laughs while recalling a point of disagreement between her and her father, "If they're breeding back in time, raising a good calf, have good udders and a good disposition, they get to stay. I don't like keeping the mean ones, but dad always said, 'she brings home a good calf. She's got to stay.'"
With the heavily droughted summer, calves were weaned in the first part of September instead of October. After weaning and making replacement and bull selections, the rest will be backgrounded 60 days before being sent to a feedlot. For the last ten years, cattle have been sold in the Northern Video Sale and shipped out to Nebraska or Canada. "Fall is my favorite time of the year," Ethan shares, "When we bring the calves home and see all the work that we've put into what the cow produced. From the AI selection, calving, and branding to the backgrounded calf we sell, we get to see if we were successful."
"Fall is my favorite time of the year," Ethan shares, "When we bring the calves home and see all the work that we've put into what the cow produced. From the AI selection, calving, and branding to the backgrounded calf we sell, we get to see if we were successful."
In Honor of Evan
Kylie and Ethan's father, Evan, passed away this September. He had a significant impact on the trajectory and success of the ranch over the last 20 years. Evan's family and the Deer Lodge community will remember him as the guy who let his cattle speak for themselves.
"Evan was a leader in our community. He was slow to make decisions, but he researched everything before he made a decision. He was someone in the community people could ask beef cattle questions to," his wife, Dana, shares. "He loved working cattle, and at branding time, he would call it our stay-cation."
Today, Kylie and husband Tayber Goff, Ethan and fiancé Marlee Sandry, and Dana manage the operation. Kylie shares how their father rubbed off on them: "I think it's pretty rare that both kids, Ethan and I, came back to the ranch. It's a way of life we love, and we want to pass our family's legacy down to the next generation.
Details

Created: 28 October 2021
Hits: 618