Dr. Bob Hough is a beef industry professional and historian with strong ties to the Simmental breed | by Lilly Platts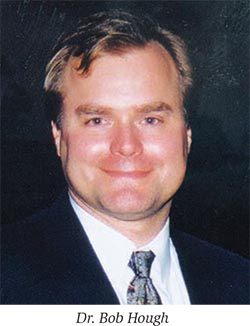 Dr. Bob Hough has a notable history in the beef industry, and has been responsible for recording the story of several breeds through his work as an author. In 2018, he authored Simmental's American Journey, which documents the breed's path to the United States, and lays out the events that led the Association to its current place in the industry. He is also a beef industry professional, holding a PhD in animal science from Virginia Tech. Hough has worked in Extension, as the CEO for Red Angus of America, traveled across the world evaluating cattle, and has authored hundreds of industry-focused articles for a variety of publications. With a skill for understanding and sifting through science, Hough writes for the beef producer and with the goal of communicating important information to the industry. Today, Hough continues to write and use the study of history as a tool for moving the beef industry forward.
Building a Career
Hough's family had a farm in Pennsylvania, where at times they cut and sold fence posts, had a Polled Hereford herd, milked cows, sold hay, and farmed. He attended Penn State, the University of Connecticut, and Virginia Tech, receiving his BS, MS, and PhD in animal science, respectively. He went through graduate school on teaching assistantships, which included working with the livestock judging teams. In 1988, Hough joined the faculty at the University of Maine as an Extension specialist working for his wife's uncle. Hough recalls, "One of the biggest training grounds I had was in Maine. My wife's family had been in Maine Extension since the late 1930s starting with her grandfather who was a potato specialist."
Hough's uncle-in-law/boss leased him a university car and told him, "I don't want you sitting behind a desk writing publications no one will read; I want you in that car, out working with producers." During this time, Hough developed byproduct feeding systems, started feeder calf sales, worked as an editor for the Journal of Sustainable Agriculture, was a busy livestock judge, spoke at meetings, and served on a variety of committees. This work earned him the Maine Beef Industry Service Award, and he was inducted into the Maine Beef Hall of Fame. Hough recalls, "I was exposed to everything: purebred, commercial, feeder calf sales, feedlots, and I even ran a ram test. I can't imagine anywhere I could have been exposed to or learned more."
In 1994, after receiving promotion and tenure, Hough left the faculty to manage a high-profile Angus operation. However, a farm accident had him back looking for a job, and he was hired by the Red Angus Association of America (RAAA) to serve as their marketing coordinator. Hough relates, "Red Angus at the time probably had no historical parallel. It was a small breed that was ranked outside the top ten in registrations. It was also very regional, with 23 percent of its registrations in Montana, and the membership was largely homogenous, with a large number of big breeders with 500 to more than 1,000 cows. This whole scenario allowed for innovative programs to be proposed and implemented at a speed unimaginable at a traditional association."
An example Hough brings up is carcass EPD. When he started in late summer of 1994, one of his jobs was to get a carcass EPD program off the ground. He found there was pent-up data, so by January 1996, they had already released their first carcass EPD.
By the fall of 1997, Hough had assumed the role of CEO. He explains, "The whole point was to have a commercially focused breed that had the best, objectively described cattle in the industry. We also made the conscious decision that we wanted the breed to be the common maternal denominator in commercial producers' crossbreeding systems. We defined our customers as commercial producers, and we made the decision to put no effort or resources into breed growth, but instead focused on member profitability based on a commercial bull market — all radical positions in their day."
To accomplish these goals, Hough says, "We implemented a large number of industry-first programs including mandatory Total Herd Reporting, data filters, Stayability EPD, Heifer Pregnancy EPD, a Female Reproductive Sire Summary, Maintenance Energy EPD, the first USDA Process Verified Program with Feeder Calf Certification Program, and grid value-based marketing."
Interestingly, because of the focus on objective selection and profitability, the breed grew from outside the top ten to cracking the top five in registrations during Hough's tenure. At the RAAA's 50th anniversary, he was named one of the 50 Most Influential People of Red Angus, and has received their distinguished service award.
Hough reflects, "At the time, the breed was so unique in terms of having visionary breeders who were willing to row upstream, which was combined with a small, nimble association. Throw in Dr. Bruce Golden at CSU (Colorado State University), and there were just a lot of very bright people around unencumbered with the knowledge of what you couldn't do at a breed association. I doubt whether a similar set of circumstances will ever happen again."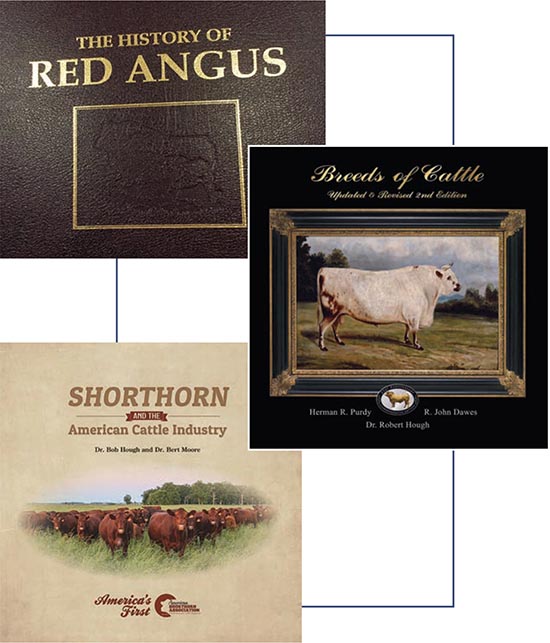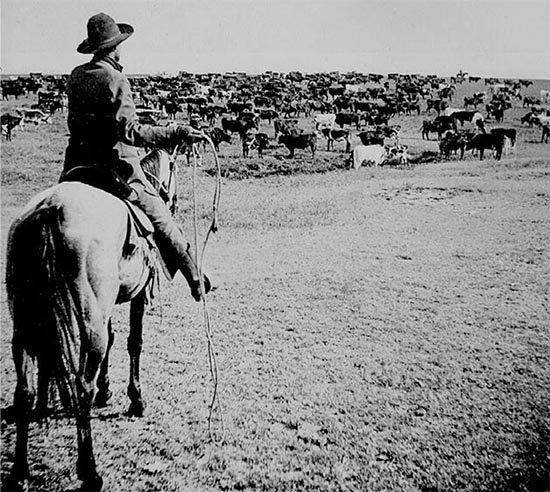 How History Informs Us
Throughout his career in the beef industry, Hough has been interested in history and has used its study as a tool for progress. Hough explains, "Studying history, you notice these convergences of brilliance — the famous Ohio State judging team after World War II, the performance movement in the mid-50s, the start of the Simmental Association, and RAAA when I was lucky enough to be there. These special times only occasionally happen in history, whether studying breed associations or countries. It is important we learn from these times as we grow and move forward. When we forget about those moments of brilliance, we've lost a lot. Likewise, we must learn when people get it wrong, too."
Hough's study of history has positioned him as an industry expert, and he has authored a number of books including Simmental's American Journey, The History of Red Angus, Breeds of Cattle, and Shorthorn and the American Cattle Industry.
The Simmental breed arguably has the best "comeback" story in the beef industry, after teetering over the brink of obsolescence. Hough explains, "When Simmental came over and the Association formed, it was done by one of these groups of leaders and visionaries that got it right."
The breed saw early success, adding pounds to commercial calves across the country, and performance was at the heart of the Association's founding principles. However, by the 1980s, like many breeds in the industry, a number of influential breeders became hyper-focused on the show ring and the "frame race" cattle it took to win. In the process they lost their commercial market. Hough notes that fads are rarely productive other than marketing cattle to the uninformed. "As a result, Simmentals had become too big-framed, hard-doing, hard-calving, had too many structure issues, and earned the unbecoming nickname 'Sickentals.' They just were not the right kind of cattle to make money commercially, and could no longer rely on the new breeders and new money constantly required to keep a seedstock-only market going."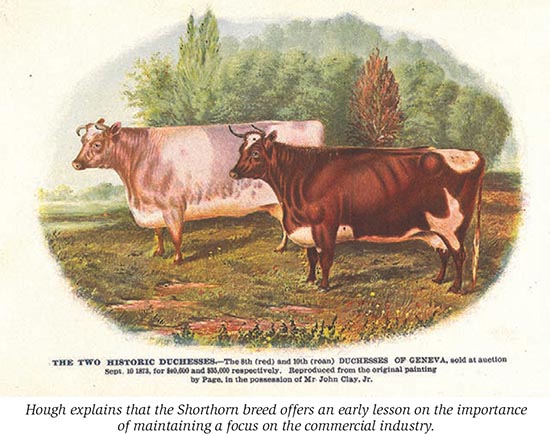 Feedlots placed Simmental on their "no buy" lists, and were vigilant about looking for any traits that could identify the breed's influence, like spots, rat tails, or diluted color. Against all odds, the breed was able to pull out of this. There were a number of challenges on the path to regaining the commercial industry's trust, but Hough explains that, again, history highlights that first led by Jerry Lipsey, a special group of people and decisions took Simmental to its current place in the industry. "Typically, the 'no buy' list is a permanent ticket to oblivion for a breed. Simmental is the only breed I know of that managed to successfully regain commercial demand. They did the hard things of collecting data and changing the cattle. Of particular importance, they stayed the course for the 10 to 15 years it takes for a breed to make a course change."
a breed to make a course change." Lessons like this can be seen throughout history, and Hough says that there are a number of common threads he has seen throughout his study of breed association histories. He explains, "From the beginning of the seedstock industry, keeping the right long-term priorities is a challenge for a breed association. Going the fad route always has appeal, but maintaining a sustainable commercial market is key. It's not that you can't service all aspects of the industry, but you have to decide what your base will be. I am proud that for a time during my tenure at RAAA, we had the show ring and commercially oriented folks in sync. It can be done."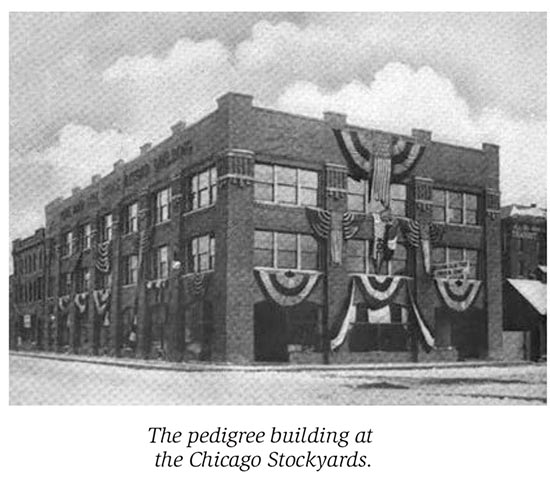 Hough explains the lesson of early Shorthorn. "After the Civil War, Shorthorn experienced a fad focused on certain dual purpose (milk and meat) bloodlines and extreme inbreeding. Because of inbreeding depression, the fertility and vigor got so bad that the cattle from the most sought-after bloodlines became few in number. This lack of fitness should have ruined demand, but instead made them collector items, adding value. At the same time, Shorthorn had the Western market sewn up. They could profitably sell all the red bulls they could produce. However, instead of sending their Western customers the beef Shorthorns they needed, Shorthorn breeders were sending dual-purpose bulls, which were a byproduct of the Midwest purebred fad."
For 15 years Shorthorn dominated until Hereford came in numbers around 1880. Hough says, "The weaknesses of these dual-purpose Shorthorn-Longhorn crosses were laid bare when a droughty summer was followed by the historically bad winter of 1886–87 in what became known as 'the big die up.' The next spring, the dual-purpose Shorthorn crosses tended to be dead, and the Hereford crosses tended to be alive." As Hough jokes, "Being alive is an important, economically relevant trait."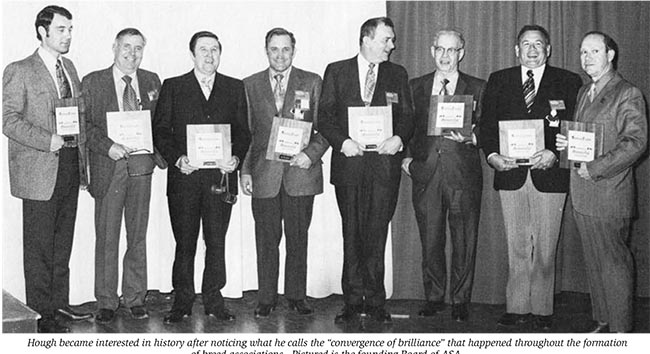 This is an extreme story of chasing fads, but Hough says fads will seemingly always be with us. "However, the common thread among successful breeds is they maintain, as a basis, a commercial market," Hough says. "If you go back to the stockyard days, Chicago had a pedigree livestock building where all breeds could house themselves at no charge because they thought it was very important to use upgraded bulls on the commercial cows to get a better product. That's why the International Stock Show was formed in 1900, and before that there was the American Fat Stock Show. It was all meant to create a better product."
Moving forward, Hough says we can use these stories found in history to make educated decisions. He also mentions that the industry should never lose sight of what the consumer wants, keeping traits like carcass size, fat, and grade in mind.
Hough concludes, "I don't live in the past — I like passing through and learning from history — but where I want to live is in the future. When I do my regular writing, the future is what excites me: Where are we going with genetic predictions, and systems, and those kinds of things. I become informed from the lessons of the past as part of the puzzle of where to go in the future. They are tied together, and I can't do one without the other." Hough cautions the need for perspective when studying history. "In the end, contentment and rose-colored glasses are two of the biggest enemies of a successful breed. It is easy to idealize the past, but change is the one constant in our industry and life. The goal is to find the nuggets of brilliance in history and discard what no longer applies. That is how we make a better future."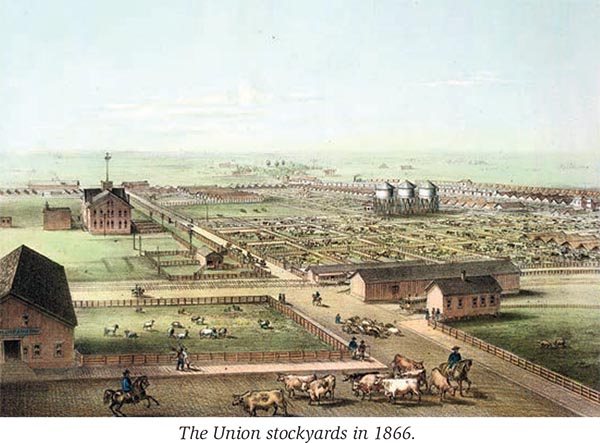 Details

Created: 02 November 2021
Hits: 855