Editor's note: Oak Meadow Farms was featured in the Stand Strong Simmental series, created in partnership with Grant Company.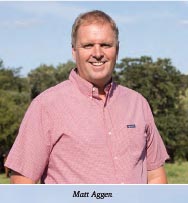 Oak Meadow Farms, located in Harmony, Minnesota, is committed to the Simmental breed and creating balanced cattle for their customers. With a desire to raise cattle that perform and are strong phenotypically, the Aggen family has found their stride with SimAngus genetics. Oak Meadow Farms has a commercial customer base, and also focuses on promoting their seedstock business. In 2019, they had the Grand Champion Pen of Five Bulls at the National Western Stock Show.
The Aggen family got their start in the breed somewhat by chance. When Matt Aggen was young, he wanted to have a beef project. Through a neighbor, the family purchased Simmental 4-H projects, and eventually took that project to a new level by starting a seedstock herd.
Matt became passionate about the beef industry and Simmental breed, and has since grown the operation into a successful business alongside his family. After spending time as a herdsman for a successful Simmental breeder and learning from well-known breeders like Tom Hook, Aggen moved back home and began working full-time at Oak Meadow Farms.
Today, Aggen, his wife Jessica, and their sons Hunter and Garrett are involved in the operation. The whole family is involved in the Simmental breed, on and off the farm. Jessica was the coordinator for the 2018 AJSA National Classic in St. Paul, and both Hunter and Garrett grew up in the AJSA; Hunter is a past AJSA Herdsman of the Year. Both Lynn (Matt's father) and Matt are past presidents of the Minnesota Simmental Association, and supporting the breed in their state is important to the Aggen family.
Lynn recently retired, after operating a successful large animal veterinary practice for 47 years. He and his wife, Barb, continue to be involved in the day-to-day operation of Oak Meadow Farms.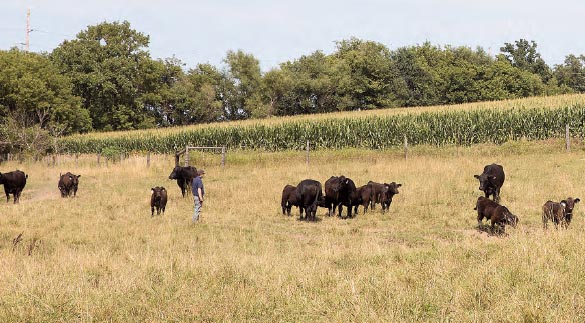 Simmental From The Start
After initially starting with Simmental as a youth, Aggen set out to become educated about the seedstock business. He recalls, "I was fortunate enough after college to work for some very good young Simmental breeders, where I cut my teeth and learned a lot of life lessons."
Today, Oak Meadow Farms raises a variety of genetics, ranging from SimAngus to purebred Simmental. While the Simmental breed came into the Aggen family's life somewhat by chance, today it's a permanent part of their program. "Simmental and SimAngus cattle fit very well," Aggen says. "They're very adaptable to a wide range of climates. We like having the muscle, and we like having the maternal. There are just a lot of positives."
Aggen explains that they originally added Angus genetics to offer their customers more variety, and to ease them into adding Simmental to their commercial programs. Aggen says, "We use some Angus genetics in our program. Part of it was marketing for our customers. They were willing to try a SimAngus bull versus a purebred Simmental bull, plus they could reap all the benefits of heterosis and hybrid vigor. That's something we capitalize on too — heterosis and hybrid vigor. They say that's the only free thing in the beef business. It also gives us different genetics to plug into different places. We can get good half- and three-quarter-blood cows, and then breed back up. It also gives us more variety in sire selection."
Combining Simmental and Angus cattle simply makes sense to Aggen. "The beauty of SimAngus cattle is you literally have the best of both worlds," he says. "With ASA's database and the qualities that Simmental cattle possess, along with the huge Angus genetic base and numbers, you are getting the best of both worlds. You have the science behind them, and the antagonistic traits of maternal and muscle. When you put that together, that F1 cross is absolutely hard to beat."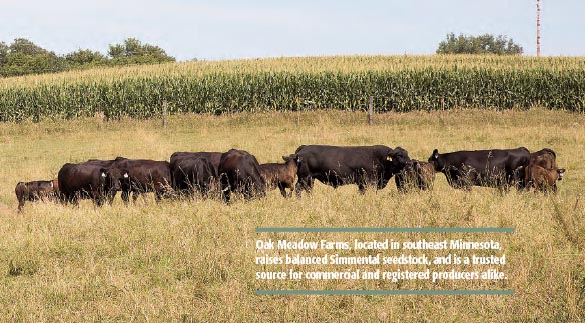 Balanced Is Best
"I know what it's like to try and balance genetically high-quality animals that also have great data, EPD, and indices into a phenotypically correct animal. It's a very difficult thing to do, but it gets us out of bed in the morning. We really strive to try and build that perfect animal," Aggen says. Creating this balance is a longtime pursuit for Aggen, and this philosophy has gained Oak Meadow Farms a solid customer base and a reputation for raising high-quality cattle. "We raise performance cattle — cattle with length of body, muscle, and focus on the end point," Aggen says.
Creating this balance is a longtime pursuit for Aggen, and this philosophy has gained Oak Meadow Farms a solid customer base and a reputation for raising high-quality cattle. "We raise performance cattle — cattle with length of body, muscle, and focus on the end point," Aggen says.
The quality of the cow herd also gives Aggen confidence in the long-term outcomes his customers will see from Oak Meadow genetics. "Usually when we sell a bull, he's out of a very nice cow, so customers should have no fear in retaining a heifer out of that bull," Aggen explains. "Ultimately, we're trying to produce beef cattle. I love raising beef cattle, and I want my Simmental cattle to be beef cattle. I want them to produce and be profitable for our customers."
Oak Meadow Farms genetics are sold each February, with guest consignors, Diamond K Simmentals (Bigalk family), and Five Star Simmentals (Seinola family).
Using indices helps Aggen, and his customers, choose animals that perform and produce profitable, sustainable genetics. "In our program, we generally focus a little more on $API, for index selection, than $TI, and that's due to our customer base," Aggen says, explaining that in their area a lot of people work off the farm, and therefore need self-sufficient, easy to manage cattle.
"It's the All Purpose Index, meaning these cattle can work for people in a lot of different situations. They can calve easily, and they have maternal value, plus stayability and a good disposition. If you put a focus on that and the physical traits that are needed, success will come your way," Aggen continues.
Aggen says that in addition to producing maternally strong, well-rounded cattle, he doesn't want to lose sight of the ultimate goal of raising beef cattle. He explains, "We have to be considering the end point in all of these cattle, and their carcass merit, so people have a good eating experience. At the same time, we want the cattle to look nice, have good udders, perform well, act well, and we want everything to just be a positive experience."
To achieve this, Aggen asks a lot of his cow herd. "I want every cow on the farm to be even, meaning from top to bottom I want these cows to be as perfect as they can be. I want to build the perfect animal — it's impossible, but every day when I go through the cows that's what I'm striving to do," he says.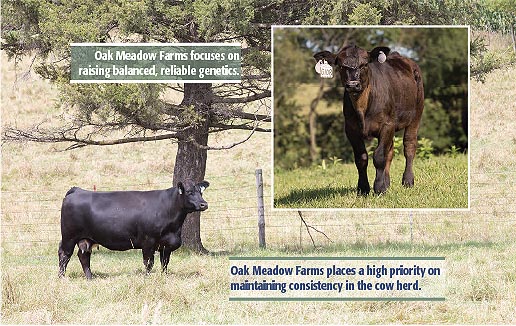 Focusing on customer success is also at the center of the Oak Meadow Farms program. Aggen says, "You have to have a good reputation by being honest and having good morals. That's what we hang our hat on." For over a dozen years, Oak Meadow Farms has coordinated a customer appreciation feeder calf sale at their local sales commission. Each November, small local breeders bring their calves to this sale, which is intended to highlight the quality of their cattle and give them an opportunity to sell their calves at a competitive price. Aggen says, "We have a lot of small breeders in this area, and we want to give them a chance to sell their calves in a better way." Aggen finds great joy in the day-to-day operation of Oak Meadow Farms, and is committed to continually improving the cow herd. He concludes, "It's enjoyable raising beef cattle out here. As we progress with genetics and advancements — from growing crops for feed to DNA selection — the future is unlimited."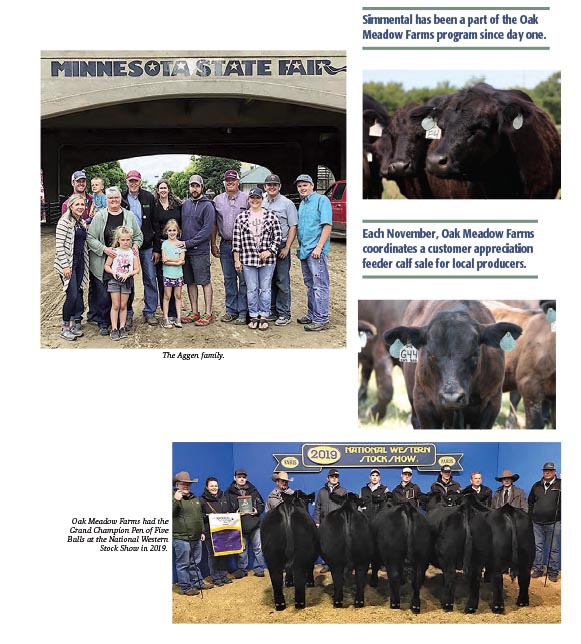 Details

Created: 16 January 2022
Hits: 467