by Lilly Platts, with AJSA National Classic coordinators Sherry Adcock, Jennifer Tarr, and Dr. Paul Walker
The Illinois Simmental Association, Illinois Junior Simmental Association, ASA, and AJSA have been hard at work planning the 2022 AJSA National Classic. Coordinators Sherry Adcock, Jennifer Tarr, and Dr. Paul Walker worked together to organize the 2018 Eastern Regional Classic, and are bringing their effective teamwork back to the table to organize this national event. The following is a preview of some highlights of the upcoming AJSA National Classic.
About the Coordinators
Sherry Adcock – cattle shows Sherry Adock, from central Illinois, owns and operates Adcock Land and Livestock with her husband Bob, and their son Justin, and his wife Emily. They run 120 head of Simmental, SimAngus, and Angus cattle, and are focused on raising cattle for show, and replacement females. The Adcock family has been deeply involved in showing Simmental cattle for many years, including when their own children were young. Today, they continue their involvement by helping the youth who purchase and show their cattle. From teaching young people to fit their cattle to helping them with showmanship, Adcock is committed to helping the next generation. She is looking forward to seeing the breed's youth and their families participate in this year's event. "ASA makes this an educational experience, and for many families it's their vacation. It's an awesome way to raise your children, with the daily work that goes into it all. To prepare for contests, the juniors have to study if they want to succeed. At the end of the day, it makes outstanding adults with work ethic and drive."
Jennifer Tarr – educational contests
Jennifer Tarr, from central Illinois, works as a business analyst for an agricultural software company, and also helps on her family's Simmental operation. Tarr's family, including her husband Stan, and children Emerson and Jasper, have been deeply involved with the AJSA for years; Emerson currently serves on the AJSA Board of Trustees. Tarr attributes much of her own children's success to the AJSA, and is bringing her own family's love for the breed and AJSA to organizing this year's National Classic. "From a very young age, people would ask us what we did with our kids to make them so comfortable, confident, and well spoken. Without question, we point to the fact that they compete in things like Sales Talk, and Public Speaking. We point back to those particular opportunities the breed has afforded us. There is no question in my mind that these events have single-handedly shaped our kids into who they are today."
Dr. Paul Walker – facilities
Dr. Paul Walker, from central Illinois, has decades of experience in the industry and with the Simmental breed. He is a professor emeritus of Illinois State University, where he studied and taught ruminant nutrition and beef cattle management for 33 years. Walker has been a member of the Illinois Simmental Association Board of Directors, was a member of the Illinois Beef Expo committee for several years, and is currently the president of the Illinois Beef Association, overseeing both the policy and checkoff divisions. He owns and operates a small lifestyle Simmental farm with his daughters, Samantha and Leslie, who were both involved in the AJSA growing up; Samantha served on the AJSA Board of Trustees, winning a Silver Merit Award, and Leslie was a Gold Merit Award recipient. Dr. Walker explains that the committee organizing this year's National Classic works extremely well together, and is backed by the state's support. "We have a cohesive group in Illinois and get along very well. We have a lot of members who make it really easy to host an event like this. I believe in giving back. The Illinois Simmental Association and ASA have been good for my daughters growing up, and I like to give back. Beef cattle have been my passion since I was ten years old. I have a lot of experience, I love the industry, I love showing, I love to judge, and I welcome the whole industry."
The Alliant Energy Center in Madison, Wisconsin,
was chosen by the Illinois organizers for a number of reasons, including space, the proximity to Illinois, hotel locations, and its central location for out-of-state attendees. Walker explains, "The pavilions are set up with a lot of room. The colosseum is an excellent place to show, and the tie-outs are grass so you can walk all you want, put up pens, or tie to your trailer. It's easily accessible from the interstate and is fairly central. It's an excellent facility. It's where the World Dairy Expo is held, which is a huge event. Numerous national cattle events and jackpots have been held there, so they are used to hosting cattle events."
The entire campus is 164 acres, with easily accessible camping and parking.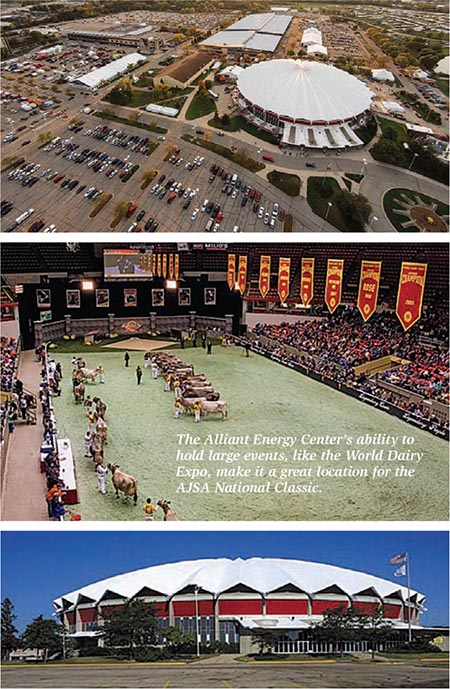 Local Attractions
Madison boasts a variety of attractions, including: the state Capitol; Olbrich Botanical Gardens; Henry Vilas Zoo; Memorial Union Terrace; Capitol Square; Chazen Museum of Art; a charming downtown; Madison Children's Museum; and much more.
Food and Hospitality
"We want to focus on having excellent hospitality for the states coming in," Tarr shares.
This year's event will feature a hospitality space, and like National Classics in the past, an overall atmosphere of teamwork and community. The 2022 National Classic will be slightly different from past events due to issues obtaining affordable, adequate meals for attendees. Like many things, food expenses are up, and the facility does not allow for outside food to be brought in and served by the AJSA organizers. To help ensure attendees will be able to obtain food without leaving the grounds, food trucks will be on site. However, families should plan to provide meals for themselves. Snacks and water will be available for juniors.
Judging and Cattle Competitions
Stan Tarr will be coordinating the judging and cattle competitions at the 2022 National Classic. Jennifer, his wife and event coordinator, shares, "He has judged a lot of shows, and was a judging coach at the University of Illinois when he was getting his master's degree. He has helped for the last 25 years with the junior college livestock judging contests at the North American, so he has a lot of experience, and will draw on many of his contacts."
New to this year's event is the option for competitors in the junior division to choose between giving oral reasons and participating in a clinic. Jennifer Tarr explains, "Kids who are just getting started, or might be doing their first livestock judging contest, might benefit from doing the clinic as opposed to giving reasons."
Details

Created: 04 April 2022
Hits: 658