Connects People to the Industry Focuses on Performance
by Lilly Platts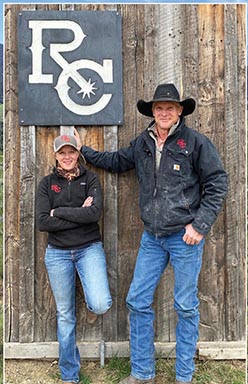 Father/daughter team Rob and Hailey Laird are seizing a unique opportunity to show the beef industry to the public through real, hands-on experience. They work at the Ranch at Rock Creek, near Phillipsburg, Montana, with Hailey serving as barn manager, and Rob running the SimAngus cow herd. The high-end guest ranch attracts people from across the country, offering luxury accommodations and dining, and a variety of outdoor activities, from horseback riding to fly-fishing and hiking.
Hailey is passionate about the beef industry and Western lifestyle, and in line with the Ranch at Rock Creek's emphasis on educating guests about ranching, she saw an opportunity to expand to the beef industry. Ride Along with a Rancher does exactly what the name suggests, offering guests an opportunity to accompany Hailey, Rob, and staff as they complete the variety of tasks involved in managing the cow herd. From moving cows on horseback to bundling up and feeding during the winter, guests see firsthand what is required to care for cattle year-round. The activity has become extremely popular, demonstrating the public's interest in learning more about how beef is raised.
Photo: Educating the public
about the beef industry
through hands-on experience
Father/daughter team,
Rob and Hailey Laird
Hailey first landed at the Ranch at Rock Creek in 2017, where she initially signed on for a summer job. She enjoyed the work and was soon promoted to barn manager. When the ranch decided to start a beef program, Hailey told her father Rob about the opportunity. Having just inherited a group of Simmental cows from his father, he was able to bring that herd to Montana and begin building a beef operation. Rob's connection to the Simmental breed goes back to his family's operation, Laird and Sons, from Dubois, Idaho. He also managed ranches across the country, including several well-known Simmental operations. Rob has always been committed to genetic improvement and was one of the first to purchase homozygous black and polled genetics.
Using SimAngus genetics to build the Ranch at Rock Creek's herd simply made sense to Rob. Beyond his history with the breed, he believes they will be able to meet their goal of creating a high-quality end product. The cows are registered with ASA, and they are utilizing DNA testing, data collection, EPD, and other tools to improve their genetics. In the near future they plan to produce beef for the on-site restaurants. Rob explains that because of the high-end requirements, they are taking the necessary time to ensure that the product is consistent.
Hailey explains that education is built into many of the ranch's activities. For example, every Tuesday local ranchers come to the Ranch at Rock Creek to hold a ranch rodeo. This not only gives guests something fun to watch, but is also an opportunity to explain the different methods ranchers use to handle cattle. Hailey explains what is happening over a microphone, which she started doing to make sure the audience learned about what is happening in the arena. "A lot of the things we do here are aimed at educating people. We talk about the things ranchers need to do to maintain their animals, and explain how much care goes into that," she says.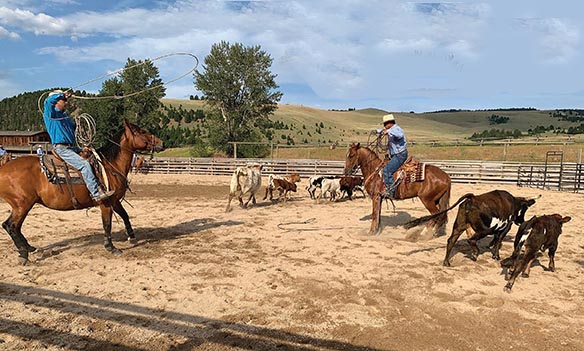 Adding the daily management of the cow herd to this educational effort simply made sense to Hailey. "I have always been a part of the Western lifestyle, and I think it's an important thing to preserve. When we brought the cows here I thought it was a really unique opportunity to talk more about the cattle and beef industry," she shares.
The Ride Along with a Rancher activities are true to the daily activities required to manage the cow herd. Depending on the day, guests might saddle up and help move cows, or ride along in a side-by-side to take mineral out. Rob explains that quiet cattle handling is always a priority and necessary for safety. "The disposition of Simmental cattle is really good, and we have a really nice, gentle set of cows. We try to handle our cattle in a very quiet, stress-free manner. It showcases that we're not mistreating them, and the animals like us, which I think is critical."
Hailey emphasizes that their goal is not to persuade people, but rather to give them the knowledge they need to form their own opinions. "We're not trying to change anyone's mind," she shares, "We just want to give people a more well-rounded view of what goes into this."
These interactions with the public have given Hailey a new perspective on what people are interested in knowing about raising beef. Ranchers may think things like genetics and EPD aren't worth explaining to the public, but Hailey has found the opposite to be true. "We talk about EPD, embryo transfer, and AI, for example, and people are just blown away with the intention behind raising cattle. They like to hear about sire selection and the science that goes into it."
Guests also have the opportunity to ask questions about the industry. Methane, feedlots, and antibiotics are common subjects that participants are curious about, and Hailey says they make an effort to answer questions openly and honestly. "A lot of the questions we get are about the process and what goes into taking care of the cattle. We try to be factual. We're not trying to stand on a pedestal talking about hot topics, but rather we focus on what we do as a program and how that can differ. We talk about how each rancher has their own way of doing things but they all have the best intention of the animals in mind."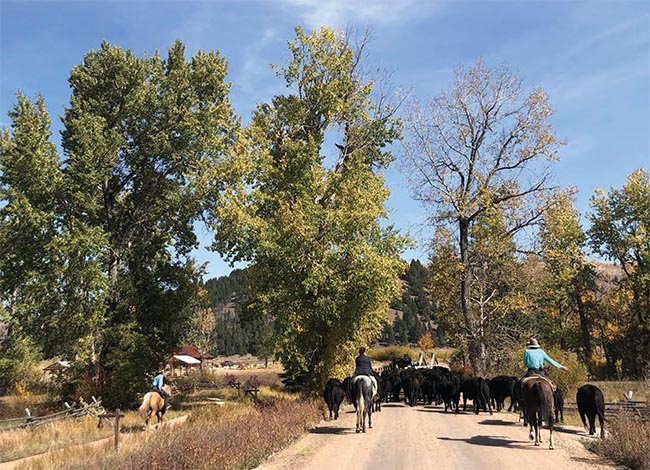 Ride Along with a Rancher has been very impactful, with many guests sharing their positive experience. Though changing skeptical minds is not their goal, Hailey has seen many guests become more open to the industry after seeing it firsthand. "We've even had vegans who have done it and they've said they would be willing to try our beef because they have more information. People really do want to learn. It gives them insight, and if they feel like there is more transparency a lot of people are more open-minded to ranching and the beef industry," she shares.
"We've had people tell us they will never forget the experience. I think it's something guests will hold on to because they've never done anything like it," Hailey adds.
Bringing guests along for daily activities does take additional time and consideration, but Hailey believes it is worth the effort. "Ranchers keep to themselves, but there are so many good, passionate people in this. We are in a neat position where we are able to speak to it. If you don't paint a full picture for people they only hear the loudest side. It's really important to provide information so people have a more well-rounded idea of what ranching looks like," she explains.
Communicating with the public can be a challenge for producers, and Hailey says that simply being willing to answer questions will help bridge the gap between the industry and consumers. "When you do have people ask questions, don't shy away from it. Talk about what you do. The first thing is to be willing to open that communication more. Focus on the facts — it's hard for ranchers to not get passionate and frustrated, but see it as a challenge for a better of the industry."
Rob concludes, "We are lucky because it is a part of the experience here. Guests have come to Montana with a willingness to learn, which is an advantage for us. They are very receptive to it. They want to learn, and I think we've actually made a difference with a lot of people. I know a lot of people go home with a new point of view."
Details

Created: 14 September 2022
Hits: 604