ASA recently launched a new feature on Herdbook allowing members to download digital certificates for registered animals. Digital certificates are the easiest, most reliable way to obtain a copy of the registration certificate quickly. At the time of download, they include the most up-to-date EPD and pedigree information. The official record is the Herdbook Services record.
After September 1, 2022, ASA will no longer scan and email or fax copies of printed certificates. Printing digital certificates will replace scanned, emailed, or faxed copies of certificates. If you are the current owner of record, these can be printed directly from herdbook.org without contacting the ASA office.
Digital certificates are accepted for check-in at ASA's five Major PTP Shows and ASA is encouraging other shows and events to accept digital certificates. Not all shows accept a digital certificate; please check each event to verify if digital certificates are accepted or if you must plan ahead to receive a paper registration certificate.
How to print a digital certificate:
Log in to your Herdbook member account

Select: Animal Search and enter the registration number




If you are the current owner of record and the registered animal record is in good standing, you'll find a blue button labeled:

Digital Certificate

Select

Digital Certificate

- located at the bottom right-hand corner under the pedigree

You will now have a downloaded copy of the certificate ready to print
Please note:
Digital certificates cannot be used as a transfer document

Digital certificates cannot be requested in email form; they must be accessed by the current owner by logging in to herdbook.org

If you have an animal registered in your name but you do not have a login, contact ASA for login information
Please contact the registrations department with any questions at This email address is being protected from spambots. You need JavaScript enabled to view it.
Or give us a call at 406-587-4531
Check out www.herdbook.org for more information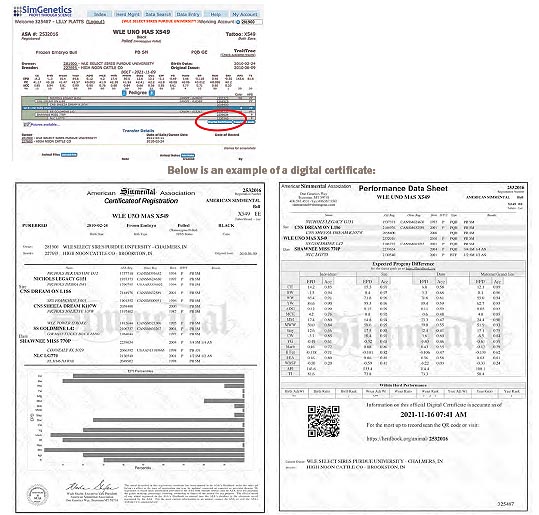 Details

Created: 17 January 2022
Hits: 2544