By Jackie Atkins Ph.D., Rachel Endecott Ph.D., and Lilly Platts |
With the recent launch of the Calf Crop Genomics project, the ASA has three research genotyping programs available to members. This month's Down to the Genes article highlights unique tips for DNA testing through Cow Herd DNA Roundup, Carcass Expansion Project, and Calf Crop Genomics.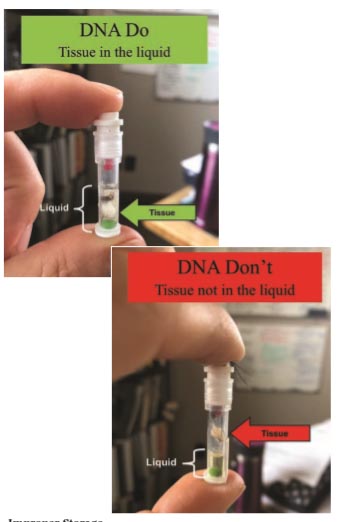 Thanks to the partnership between IGS and Neogen Genomics, the ASA has access to research priced GGP-LD panel (recently increased to 100,000 DNA markers including parentage and several simple trait tests). These reduced-price genomic tests are tied to collecting genomics on sought-after animals with rare phenotypes or complete contemporary groups in order to continue to improve future genomic predictions.
Tips to facilitate timely DNA test results
Ensure proper sample collection and handling. Follow the directions for TSUs in order to reduce sample fail rates or samples that don't even make it into testing due to rejection at the lab. If samples fail or are rejected, this adds several weeks to months to the testing timeline as a new sample is required for re-testing.
Double-check that your electronic order form is complete and correct. If anything is questionable on the order form, the samples will be held aside until the ASA knows exactly what to test. Double-check that the ASA numbers match the barcodes and that the samples listed on the form match the physical samples being sent to the ASA.
Consider priority handling or priority shipping. Faster shipment of kits either from ASA to the member or from the member back to ASA can reduce the time it takes to get results. Both of these options come at a cost.
There is no way to expedite the actual testing procedure at the lab. The only way to speed up the DNA process is to reduce the time spent on kits or paperwork, ensure quick and appropriate sample collection, and reduce shipping transit times.
Common Reasons Why Samples Fail DNA Testing General Issues
Biological Contamination
• Cross-contamination between samples/animals.
• Fecal matter and dirt in sample — any foreign material in the sample may interfere with genotyping.
Chemical Contamination
• Dye/pigment from animal markers.
• Insect repellant.
• Cleaning agents.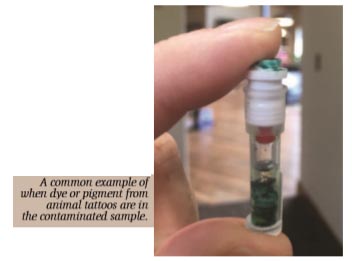 Improper Storage
• Heat exposure including leaving samples in a vehicle or in the hot sun.
• Exposure to foreign material including mold.
• Improper frozen storage — the freeze/thaw cycle of a self-defrosting unit can degrade DNA.
• Extended sample storage — DNA degrades over time.
Insufficient sample
Improper shipping
Specific tips for TSUs
• Make sure there is a sample in the TSU.
• Seal the cap securely so no fluid leaks out.
• Make sure the sample is floating in the fluid (not trapped above the fluid).
• Short-term storage - keep at room temperature and out of direct sunlight to prevent DNA degradation.
• Long-term storage (longer than one year) — store in a freezer (-20° F) that does not get used often and does not automatically defrost.
Cow Herd DNA Roundup (CHR)
Female genotypes are important to improve genomic predictions of maternal traits. The CHR provides a $25 test to members who send in DNA samples on 90% of the cow herd. Members receive a $5 rebate if they submit mature weight and body condition scores or hip heights on 90% of their calving age females. As of Jan 1, 2021, replacement heifers and heifer calves will no longer be accepted in the CHR program.
Carcass Expansion Project (CXP) The goal of the CXP is to genotype terminal calves. It is rare to collect carcass records and even more rare to have genotypes on calves with carcass records. Yet, having this valuable information is critical to genetic prediction of carcass traits. In the CXP, the ASA pays for the genomic test. Animals must be pre-approved by the ASA as there is a finite annual expenditure and the ASA tries to obtain these records on bloodlines with limited carcass information in the database.
Calf Crop Genomics (CCG) ASA's most recent research project was developed to capture genomics on the entire birth group. This can be either all of the females, all of the males, or both born in the same season and year. Members pay $25 for each genomic test if they submit DNA on 90% of the birth group (by gender). Members receive a $5 rebate for complete weight trait records (birth, weaning, and yearling) on 90% of the calves still owned at the time weights are collected. Members can receive a $15 rebate on animals with carcass records. For more information about the Calf Crop Genomics see page 26.
Because these research projects are offered at a greatly reduced price, there are certain requirements to meet for the reduced cost:
• Samples must be collected using Tissue Sampling Units (TSUs).
• Samples are sent to the ASA after collection (please Do Not Send to Neogen directly).
• An electronic order form must be sent to ASA to identify what animal (ASA number) goes with what barcode
Contact the ASA today at 406-587-4531 or This email address is being protected from spambots. You need JavaScript enabled to view it. for help with DNA testing.
Details

Created: 06 August 2020
Hits: 3132