By Lane Giess, Director of Commercial and Nontraditional Data Program |
Information drives progress. It could be said the responsibility of every seedstock breeder is to drive progress in their herds, and the way this can be achieved is through reliable genetic predictions calculated with the most sophisticated science in the IGS Multi-breed Genetic Evaluation powered by BOLT.
Data feeds the genetic evaluation, and some data are rarer than others, most notably actual carcass records.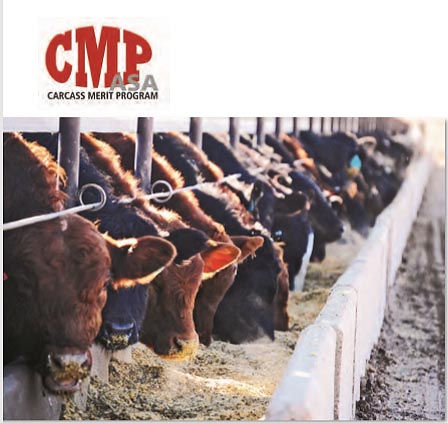 The Carcass Merit Program (CMP) is one of the longest-running programs at the American Simmental Association (ASA). It addresses funneling those much-needed actual carcass records into the genetic evaluation.
Carcass records include carcass weight, ribeye area, fat thickness, marbling score, along with quality and yield grades. These metrics provide invaluable information regarding the genetics influencing the end product.
Marty Ropp, a long-time participant and previous coordinator of the CMP, has firsthand knowledge of the impact the program has on the industry.
The CMP operates like a traditional young sire bull test, where a nominated sire is placed in commercial herds and phenotypic data is furnished back to the ASA for inclusion in the genetic evaluation.
"We currently have 23 sires enrolled in the CMP because the data it generates is crucial to identifying the next generation of industry improving sires we count on," Ropp says.
Actual carcass records take time to collect. If a prospective young sire was collected at 12 months of age and bred cows at 14 months of age, it would be another two years before actual carcass records were collected and submitted for genetic evaluation at a minimum.
With the astonishing investment of time in collecting actual carcass records, ensuring the quality of the data coming in is a high priority.
"Creation of well-structured groups of cattle for carcass data collection and sire evaluation can be difficult outside of programs designed to deliver such information," Ropp says. "Because the information, including the genomics, is best characterized in structured testing, the only way we can get the volume and quality of information we need is to use the CMP program."
The commercial herds who work with the CMP are at the heart of its success. Each cooperator herd collects meticulous data from birth to harvest and ensures the data is of the highest quality. Cooperator herds are given a list of possible sires ahead of breeding and are able to select the bulls they wish to place in their own herds. For statistical purposes, multiple sires are used in each herd, and most sires nominated to the CMP are used in multiple herds.
In the ASA genetic evaluation, less than 2% of the animals enrolled annually will eventually return actual carcass information, and while ultrasound data helps as an indicator trait, accurate predictions for carcass traits are largely dependent on actual carcass records submitted annually.
The CMP program accepts a limited number of sires each year. For questions about nominating a sire or becoming a commercial cooperator herd, please contact Lane Giess at This email address is being protected from spambots. You need JavaScript enabled to view it..
Details

Created: 27 April 2020
Hits: 1239