2021 Board of Trustees
We, like most, are still facing the many challenges of the pandemic and seek ways to continue with our lives and businesses. The ASA Board of Trustees and Staff are determined to keep moving forward and provide the best services possible and did so this month with many multiple virtual meetings. January is the month for ASA Trustees and Staff to reflect on the past accomplishments of the previous year and to start planning for the current year.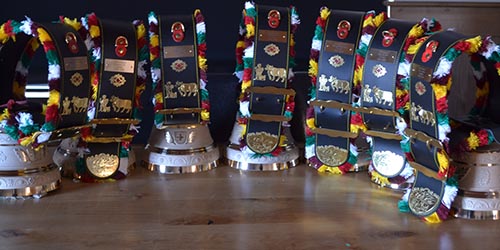 We said our goodbyes to seven trustees Friday. Gordon Hodges, Hamptonville, North Carolina; 2019 ASA Chairman, served 1990 – 1995 and 2014 – 2020; Jim Ligon, Cookeville, Tennessee, served 2018 – 2020 and 1996 – 1998; Cliff Orley, Lebanon, Pennsylvania, served 2018 – 2020 and 2014 – 2016; Tom Hook, Tracy, Minnesota, served 2018 – 2020; John Griswold, Stillwater, Oklahoma, served 2018 – 2020; Fred Schuetze, Granbury, Texas, 2005 ASA Chairman, served 2015 – 2020 and 2000 – 2006; Mike Forman, Ellensburg, Washington, served 2015 – 2020. Thank you for your contributions and dedication to make the American Simmental Association what it is today.
We started off the first full week in January welcoming the newly-elected trustees. There are so many programs, services, and tools that are available for members, we wanted to give the incoming trustees a head start going into their service as an ASA Trustee. Welcome!
Eastern Region: Chris Ivie, Summertown, Tennessee, and Doug Parke, Paris, Kentucky.
North Central Region: Tim Clark, Turtle Lake, North Dakota.
South Central Region: Brandon Callis, Minco, Oklahoma, and Victor Guerra, Linn, Texas;
Western Region: Chad Cook, Walsh, Colorado.
They join Randy Moody, New Market, Alabama, and Barry Wesner, Chalmers, Indiana (Eastern Region); JW Brune, Overbrook, Kansas; Kent Bruner, Lost Springs, Kansas and Steve Eichacker, Salem, South Dakota (North Central Region); Greg Walthall, Windsor, Missouri and Dr. Gary Updyke, Checotah, Oklahoma (South Central Region) and Tim Curran, Ione, California, Clay Lassle, Glendive, Montana and Tom Nelson, Wibaux, Montana (Western Region).
The next week was dedicated to committee meetings. All paths of reorganization and advancement go through committees. The standing committees are very involved with the programs, services, and science that advances ASA. ASA is a strong leader in the industry thanks to the work done in committees.
Most of January's committee work is updates, reviews of current programs, and preparing for 2021 but as always, there are new advancements or business to take care of.  All reports will be published in the March Register and posted on ASA's website.
Here is a short recap of resolutions passed by the board during the January Board Meeting.
1. New AJSA Association: Florida Junior Simmental-Simbrah Association. Florida has formed a junior association and will be involved with the American Junior Simmental Association.
2. 2022 National Show: 2022 Forth Worth Stock Show & Rodeo will be the host of the 2021-2022 National Simmental Show.
3. 2022 Eastern Regional: Indiana Simmental Association will host the 2022 Eastern Regional in Lebanon, Indiana.
4. Check-Off Bonus Dollars: This program steps up the amount of money each state association may collect based on the registrations in their state. If a state completed 3 of the 7 approved items, you'll receive an additional .45 per state registration; then it increases for meeting 4 – 7 of the approved promotional items. The amount of bonus dollars that may be collected is based on the amount of promotion and advertising a state does in a fiscal year. Find out more details on ASA's website. Each state could receive $1.10 per registration with the standard check-off dollars (.25 per registration) and completing all 7 items approved for the check-off bonus program.
5. IGS/SLA Program is in full swing for another 2 years. This has been a very successful relationship in the use of the IGS Feeder Profit Calculator on the Superior Livestock Auction platform. 2020 was nearly 400% more than 2019. Watch for more details.
6. USE TSUs! TSUs have a lower failure rate than blood cards or hair samples. An additional encouragement to use TSUs: if you use TSUs and you receive a partial result (failed add-on for example), ASA will absorb the costs for a retest in most situations. This does not cover the cost of re-sampling animals due to poor sample quality.
The Golden Books Awards were presented virtually during the Annual Meeting. This is an award that recognizes individuals and organizations that have made significant contributions to the development of the Simmental and Simbrah breeds. Videos were shown during the annual meeting to congratulate Gordon Hodges, Fred Schuetze, and Steve Reimer.
Congratulations!  Watch here.
The Annual Meeting is where officially the previous year's board completes their mission and the new board starts preparing for the year. ASA's 2021 Chairman is Randy Moody, New Market, Alabama.
The 2021 Executive Committee: Vice-Chairman, Barry Wesner; Treasurer, Steve Eichacker; Executive Position #1, JW Brune and Executive Position #2, Tom Nelson.
We encourage you to stay involved with your association. Watch eNews and check ASA's website frequently for announcements of upcoming meetings. If possible, you'll be able to join virtually. Stay in touch with your regional trustees, they welcome the interaction.
A special thank you goes out to ASA's Executive Vice President, Wade Shafer for the commitment, leadership, and enthusiasm he has for this association and staff. Another special thank you goes to 2021 ASA Chairman, Tim Curran and his wife, Jill – In this very challenging year, the leadership and caring never wavered and kept us moving forward.

Stay tuned. There are many great things to come.
Details

Created: 30 January 2021
Hits: 573