P

A Recognizes Dedicated and Driven Data-Reporting Operations
For a dozen years now, the Performance Advocate Program (PA) has recognized cattle producers who maintain a commitment to data reporting. The 2021 program marked the second year under new guidelines, developed to identify the dedicated data reporting that fuels ASA's genetic evaluation.
A Driven Performance Advocate submits records on at least 10 of the 14 traits, and 90% of the contemporary group. A Dedicated Performance Advocate submits records on 90% of the contemporary group, and records on 8 of the 14 traits.
Performance Advocates listed here are for the fall 2019 and spring 2020 calf crops. The operations featured below have submitted data on at least 8 of the 14 traits, and represent operations that are committed to data reporting.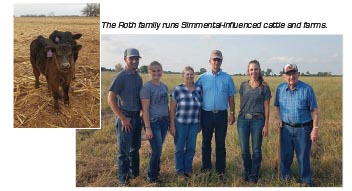 Roth Farms, Sterling, Kansas
Roth Farm and Ranch, south-central Kansas, consists of a commercial SimAngus cow herd, a small registered Simmental and SimAngus herd, and a farming operation. The cow herd was started in 1976 by Charles Roth. It has since been passed down to his son, Norman, his wife Cindy, and their children Cami and Colton. After transitioning from a dairy herd, Charles and Norman bought a set of Angus cows in 1977. Simmental piqued their interest after a neighbor's bull got in, siring a gray-colored cow that became a top producer. In 1977 they purchased their first Simmental bull, and in 1986 their first registered cows. They have now had Simmental cattle for 44 years.
Cami and Colton are third-generation Simmental breeders and the fifth generation to work in the family business. Cami manages the daily cattle operations while Colton works primarily on the farming side. The operation's goal is to breed cattle with high growth, moderate frame, high docility, moderate milk, good calving ease, stayability, marbling, and good udders. While the registered herd is small, extensive focus is placed on producing bulls that will work in the commercial environment and yield the same quality as any of the larger breeders. Bulls are sold by private treaty both locally and regionally. Additionally, they sell a group of two-year-old commercial cow-calf pairs each year. Through ASA programs, Roth Farms utilizes genomic testing.
The Roth family shares, "Extensive records are kept on both the commercial and registered cow herds. Reporting that data to ASA ensures the registered animals have the most complete EPD profiles and improves the accuracy on all related animals in addition to the individual. The more information you have on an animal, the better informed your breeding and selection decisions will be, and the next generation of calves will be more closely aligned to your genetic goals."
---
Red Hill Farms, Lafayette, Tennessee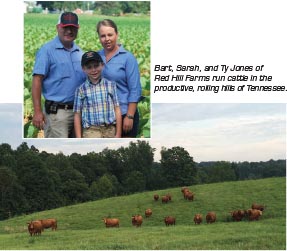 Red Hill Farms consists of 450 Red Angus, Simmental, SimAngus, Charolais, and Angus cows, 135 purebred sows, and row crops that support the livestock enterprises. The business is family owned and operated, with Bart and Sarah Jones at the helm; their son Ty is the seventh generation at Red Hill Farms. Data reporting is of utmost importance to Red Hill Farms, and they use extensive performance records and DNA analysis when selecting the bulls and females. Their sales are held annually on the third Saturday of March and last Saturday of October.
Bart and Sarah have deep roots in the area and in agriculture. The original farm was purchased in the late 1860s by Bart's great-great-great grandmother. Sarah utilizes her professional background in accounting, managing all of the financial records, cattle records, and marketing, in addition to being involved in the day-to-day management of the cow herd. Bart grew up on a purebred hog operation, and Red Hill farms continues to raise hogs. This background, and the data-driven nature of the hog business has influenced his emphasis on recording data on the cow herd and participating in Total Herd Enrollment. Ty is currently coming up through junior agricultural programs, and enjoys exhibiting market lambs.
---
Green Valley Farm, Ithaca, Michigan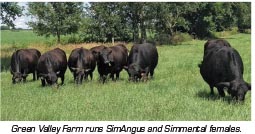 Green Valley Farm started raising Simmental cattle in 1988. Brian Harris purchased two purebred Simmental cow-calf pairs with his father, Jon, and became a member of ASA. Using these base cows, they bred up for several years and soon had 20 registered, mostly purebred Simmental cows. Their focus for many years was phenotype and show- focused genetics. Harris shares, "We had a lot of fun showing and promoting our program, but felt there was a better economical way to make even a better product with more consistent marketing opportunities. We decided to focus more on the commercial demands of carcass value and maternal traits. We started pointing our program in that direction in 2009."
Jon, unfortunately, passed in 2012, just when they began seeing the benefits of changing their program. The majority of the cow herd is SimAngus, with a small group of purebred cows. Green Valley Farm has been a partner in the Great Lakes Beef Connection for 12 years. Data collection is a priority, and a genomic test is completed on each animal to help better identify the best genetics in the herd. Brian shares, "The Simmental breed is very near and dear to me. We have witnessed some amazing changes for the good over the years in our herd and the breed overall. The data, technology, and genetic testing have been extremely valuable. Our end goal is to make the best cattle we possibly can phenotypically and genotypically. We love our SimAngus cows and they work hard for us every year! We are very honored to be recognized in the Performance Advocate Program. We have been extremely blessed to have ongoing support and wonderful friendship from some of the very best genetic leaders in the country to help us reach our goals and assist in identifying new ones."
---
Andy and Kim Kratzer, Marquette, Kansas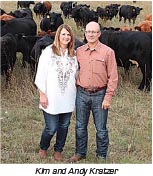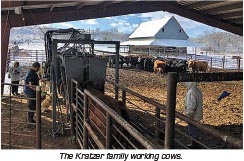 Andy and Kim Kratzer run Simmental-influenced commercial cattle in the Smoky Hills region of Kansas. With a background in computer science, data collection and reporting comes naturally to Andy, and he places a high priority on it in the cattle operation. The operation is enrolled in ASA's commercial THE option, and they also obtain carcass data by retaining ownership on weaned calves.
Andy was first introduced to the breed when his father purchased Simmental bulls in the 1970s. He carried his passion for the beef industry through college, running cows with his father's herd. After college he was able to strike out on his own, and has been improving his cow herd ever since. When asked why he chooses to focus on data as a commercial producer, Andy says, "As commercial producers, we are fortunate to have the ability to submit our cattle performance data and have it analyzed by an organization that believes in the science of raising cattle. With the commercial THE option, we have data available to us that was previously only available to producers who registered their animals. By investing a few more dollars and minutes per head, we receive information about our cattle that helps us to manage our herd to increase the bottom line."
---
Rock Hollow Farms, Alachua, Florida

Rock Hollow Farms, located in north-central Florida, runs a herd of Bos Indicus composite females, and has recently added SimAngus genetics to their program. The Crane family has been ranching in Florida since the early 1950s, starting with registered Angus. They later moved to polled Herefords before deciding to focus on Bos Indicus cattle. In 2000, Bob Crane connected with Alf Collins Sr., a Brahman breeder from Queensland, Australia. Crane had begun using Brahman cattle in his commercial herd, and Collins's knowledge inspired him to fully commit to these genetics. Crane recalls, "His visit led us to acquire the small herd of Boran cattle (an indigenous Bos Indicus African breed) top-crossed from the Brahman herd from the McGregor Research Center in Texas. We also purchased their Boran semen inventory."
In 2016, Collins gifted Rock Hollow Farm semen from five of his top herd sires. Up to this point, data reporting had not been a priority but these top genetics inspired Crane to enroll his herd in a database. They chose to join ASA, and have been reporting data on their cow herd and calf crops ever since. Recently, they added SimAngus genetics to their program. Efficiency is a priority in the cow herd. The majority of Rock Hollow Farms' pasture is unfertilized Pensacola Bahia grass, and cattle are required to sustain themselves through the spring and winter when forage becomes sparse. Fertility, calving ease, docility, stayability, and moderate mature size are also priorities in the cow herd.
Bob, his son Andy, and Andy's sons Austin and Cole are involved in the operation. Crane says, "Collecting data is important to us because it yields objective facts on which to base mating decisions, rather than relying on subjective appearances, fads, and fancies."
---
Clear Springs Cattle Company, Starbuck, Minnesota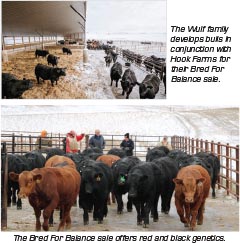 Located in west-central Minnesota, Clear Springs Cattle Company began operation in 2011. Previously, Jim Wulf and his sons, Travis and Brady, raised Limousin cattle with three of Jim's brothers at Wulf Limousin. The Limousin operation, started by the late Leonard Wulf, was always based around sound science to breed and manage cattle for increased profitability. The tradition has continued, with the collection of phenotypes and genomic data on every calf. Rotational grazing and cover crops are used extensively to utilize forage, with the cows grazing past Christmas most years.
When the Jim Wulf family made the decision to venture on their own and switch breeds, Simmental was an easy choice; Jim had grown up with Tom Hook, Hook Farms, in 4-H, and Hook Farms was the first stop in the search to find the type and quality of cattle the Wulfs appreciate. Jim Wulf says, "We are blessed to have become great friends with Tom over the years and from 2015 to 2021 have worked jointly with him to put on the Bred for Balance sale the second Friday of each February." The sale will take place February 11, 2022, featuring 125 bulls and 50 females.
Working with Hook Farms has allowed Clear Springs to add even more focus to evaluating genetics. Travis says, "We are grateful for the mentoring Tom has provided and his willingness to share his abundant knowledge about contemporary groups, EPD, and performance data collection with us, and we look forward to continuing learning and striving to breed more profitable cattle for the beef industry."
---
Bridle Bit Simmental, Walsh, Colorado
Bridle Bit Simmentals bred their first cows to Simmental bulls in 1969. Data on these first calves was reported to ASA, and that practice has continued for 50 years. Bridle Bit Simmentals credits Gene Enloes, Weld County Extension agent, in taking all the weaning and yearling weights in the early years of the operation. Correct and accurate data has been a priority since the beginning.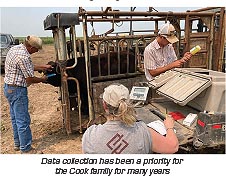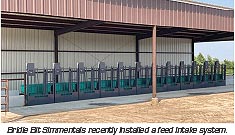 Artificial insemination was used exclusively until 1986. When the Cook family moved to southeast Colorado, embryo transfer and herd bulls were introduced into the breeding program. In those first years, Bridle Bit data was reported to the ASA as a non-member and they officially joined the association in 1974, as ASA membership number 4086. They attribute their success to the foresight of the breeders who founded the ASA and the programs they continue to implement.
Bridle Bit Simmentals markets bulls and females through an annual sale in March, with this year's All-Terrain Bull and Female Sale on March 21, 2022. All animals are sold with complete data and genomically-enhanced EPD. Bridle Bit is an owner/member of Allied Genetic Resources, LLC. After several years of collecting feed efficiency data at Hy-Plains Feedyard in Montezuma, Kansas, Bridle Bit installed their own feed intake system at the ranch. This will allow the bulls to stay home, as well as include feed intake data collection on the females beginning in the fall of 2021.
Details

Created: 22 October 2021
Hits: 846