Results from the 2018 Carcass Merit Program and the need for diversity in carcass programs. |
by Lane Giess, director, Commercial and Nontraditional Data Programs |
By now readers may be overwhelmed by the amount of content dedicated to the importance of actual carcass data collection. But if we take a moment to think about why that is the case, it highlights the reason so much time, energy, and funds are spent on the actual retrieval of terminal information. Simply, carcass data collection is no easy task, but an important one.
The financial impact of carcass value awareness has never been greater. Whether one is selling feeder calves or harvest-ready steers, the business is taking advantage of more and more knowledge to place valuation on calves. Beef consumers simultaneously reap the benefits of added eating quality and are responsible for pushing the accelerator for carcass genetic improvement, particularly marbling.
Consider the change in carcasses grading choice in such a short period of time. In the early 2000s we were grading in the upper 50% choice. Today, that number would likely get any procurement professional relieved of his duties. Just a quick look at USDA numbers over the last decade shows that the push continues at a breakneck pace.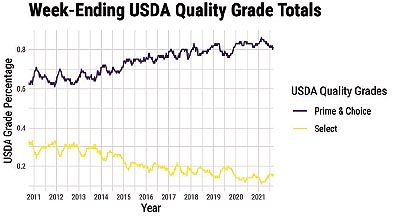 The American Simmental Association has a rich history of being at the forefront of collecting and gathering carcass data. The organization established the Carcass Merit Program (CMP) in the late 1990s, and it was a large contributor to the resurgence and growth in popularity of the Simmental breed. Not only did the CMP establish a method for generating extremely valuable carcass data, the program also encompassed full lifespan performance traits such as calving ease, fertility, and feed efficiency to name a few. Nominated Simmental and Simbrah CMP sires were compared against high-accuracy sires from other breeds (primarily Angus). It could be argued that, for members, the greater utility of the CMP was the ability to compare SimGenetics to those other breeds' performance, which allowed membership to have real-world data to show potential bull buyers the merits of SimGenetics.
Today, we have many ways of benchmarking the terminal merit of SimGenetic cattle compared to other breeds. The Tri-County Steer Carcass Futurity Cooperative provides unbiased, powerful comparisons on the performance of different breeds in a terminal setting. Kansas State University investigated sire breed group comparisons (English, Continental, Simmental, and SimAngus) for terminal value and carcass traits. Simmental and SimAngus calves showed similar marbling to English-sired calves, which had at least 0.3 less USDA yield grade. Ultimately, Simmental- and SimAngus-sired calves were at least $20 more profitable in overall carcass value compared to Continental- or English-sired calves.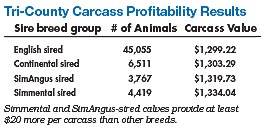 Benchmarking is a powerful tool for promotion, but what about actual animal improvement? Since the CMP has been operating, the ASA has been collecting a large swath of carcass data that continues to fuel a hungry genetic evaluation. Since 2001, the ASA has accumulated over 40,000 animal records with actual carcass data, due in part to the CMP. As a cumulative program, the CMP has been one the greatest success stories for any young sire progeny test in the industry — yet, in some years, it also highlights the difficulty and need for such programs.
I think no one would argue that 2020 was a difficult year of turmoil, uncertainty, and change. Ripple effects from COVID-19 are still being felt, and the CMP is one of those unfortunate collateral casualties. The CMP class of 2018 fell victim to packing plant restrictions, market volatility, and even some change in cooperator herd management.
Now, to be clear, some of these issues were already in the works prior to the pandemic, and in any given CMP year there is always turnover where data loss is a natural thing. A certain level of data loss is expected due to difficulties of carcass data collection, and so redundancies such as sampling the same CMP bull in multiple herds is done to prevent inadequate sampling. But when redundancies fail, this makes for a less-than-exciting CMP class of 2018 carcass report.
In 2018, a total of 2,059 units of semen on 35 sires were bred to commercial cows in nine cooperator herds. This was the one of the largest CMP classes in recent history, and should have resulted in approximately 600 calves with carcass data. Instead, the program netted 439 terminal animal records. A whopping one-third of the expected data were lost. The real casualties, however, are the bulls nominated for which no carcass data on progeny were collected, and because of the significant time lag of three years between breeding and harvest — time is the real loss.
Carcass data collection is not easy, and following a single animal through its entire lifecycle is met with many hurdles. Changes in ownership and technological failures are a couple of the main drivers behind loss of information. Historically, packing plants have been extremely protective of their data, and so retained ownership is now a baseline requirement if you are even to begin to receive the data. Selling cattle for cash is no longer an option. Tag loss and electronic ID readers have a tendency to fail, and even having one carcass fall off of the rail can result in total ID disruption.
Perhaps the biggest interruption is the fact that few packing plants regularly even collect individual ID, meaning that if a load of cattle is shipped on the wrong day, the plants may not have the personnel to collect the needed information. There is nothing more disappointing than having a load of retained-ownership cattle getting killed on the wrong day, and getting a dataset with individual data but no ID, resulting in effectively useless data.
Cooperators of the CMP have a lot invested as well, as they receive $65 per animal with carcass data. Losing this information hurts their bottom line as much as it hurts the ASA and its members.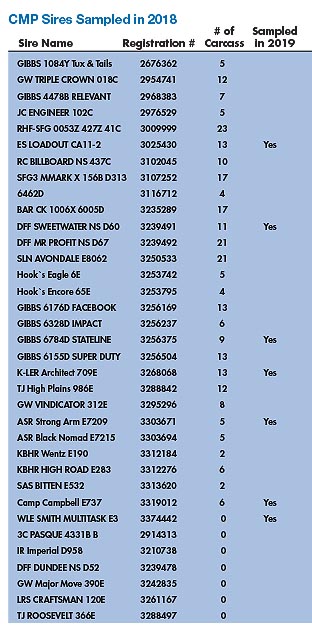 That's not to say the CMP class of 2018 was without success; many of the bulls nominated were able to get appropriately sampled, and have contributed to our understanding of their carcass merit.
Never put all of your eggs in one basket, right? It's fortunate that the ASA has invested heavily in other incentives, data programs, and membership support that help contribute carcass information to the genetic evaluation. There will always be a need for ASA members to collect carcass ultrasound and encourage their commercial customers to get involved in carcass research programs.
The ASA hosts multiple carcass futurities, such as the Graham County Feedyard project and the Steer Profitability Contest. Research programs like the Carcass Expansion Project (CXP) and Calf Crop Genomics (CCG) have surpassed the CMP in carcass data collection. The CMP was only responsible for 6% of the carcass data totals in 2018, which was the CXP inaugural year. Animals reported in 2018 with carcass phenotypes numbered 6,813, which dwarfed the 439 records collected from CMP-sired calves.
To put this in perspective, the 2018 carcass data total is nearly double from the year prior and represents a 2% increase in the percentage of registered animals with carcass information that enter the database
Thanks to these programs and membership engagement, the ASA is responsible for over 10,000 of the 11,000 animals with genomics and actual carcass data in the International Genetic Solutions (IGS) multibreed database. A genetic evaluation the size of IGS is hungry for information, and the ASA is one of the best when it comes to carcass data.
The ASA is dedicated to providing the most powerful scientific tools that benefit its members and its members' customers — to ignore carcass merit would be to ignore the profitability of our customers and turn our backs on the success of the beef industry. For questions relating to the ASA's carcass initiatives, please contact This email address is being protected from spambots. You need JavaScript enabled to view it..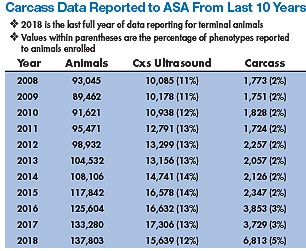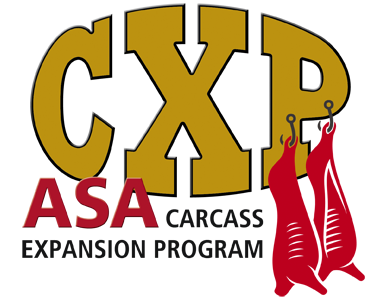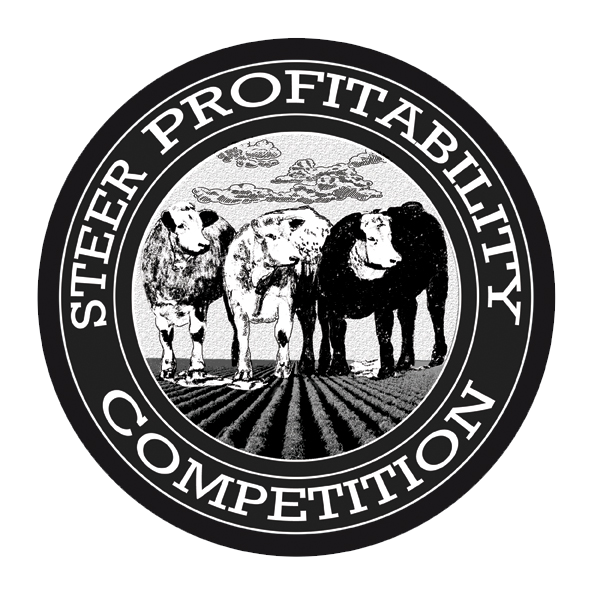 Details

Created: 26 October 2021
Hits: 820