A pair of longtime breeders and an ASA executive are recognized with the Association's highest honor.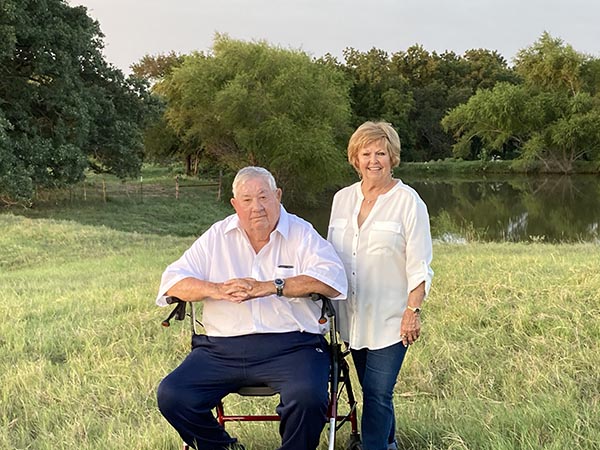 Scott Riddle, Hubbard, Texas
With deep roots in the cattle industry dating back to 1841, Scott Riddle was among the earliest members of the American Simmental Association, holding number 16, the oldest active membership in the organization. An astute manager with a focus on the bottom line, Riddle immediately became interested when he heard about the big red and white cattle being imported to North America from Europe in the late 1960s. Believing that there would be a great demand for Simmental seedstock, he joined the ASA as a charter member and named his operation Simmentals of Texas (SoT). Scott and Pat at the ranch with great-grandsons Kevin and Cavan. 22 Register / July/August 2022 SoT).
Shortly thereafter, Riddle and a number of other early Simmental breeders gathered to form the Texas Simmental Association (TSA), later to become the Texas Simmental & Simbrah Association. Riddle served as an officer, on the board of directors, and on various committees during those early years. Along with several other Texas pioneers, he provided time, input, and financial support for the TSA, which was the first state Simmental association in the nation. Over the years he traveled to Germany, Austria, Mexico, and Canada in search of genetics to support his preferred breed.
In an effort to expose commercial cattle producers to the merits of the breed, he founded North American Simmental magazine, a breed publication that provided information to interested cattle producers while expounding the many benefits the breed could provide through crossbreeding. That magazine eventually served as a forerunner to Simmental Shield and the Register.
After a half-century of promoting the value of the breed as both a seedstock and a commercial producer, Riddle recently made the decision to purchase the prized Granbury-based Buzzard Hollow Ranch cow herd and contracted with former BHR manager Fred Schuetze to continue to head the program. That purchase brought the entire spectrum of SimGenetics — Full Fleckvieh, black and red purebred Simmentals, SimAngus, and Simbrah — to the SoT operation. It also included BHR Lady SIEG C235E, the only Fleckvieh Simmental female in the world with a complete DNA profile.
The Riddle operation continues as a family ranching institution to this day and includes his wife Pat, their two daughters Donna and Pam, and granddaughters Jennifer Cooper and Kathryn Batish.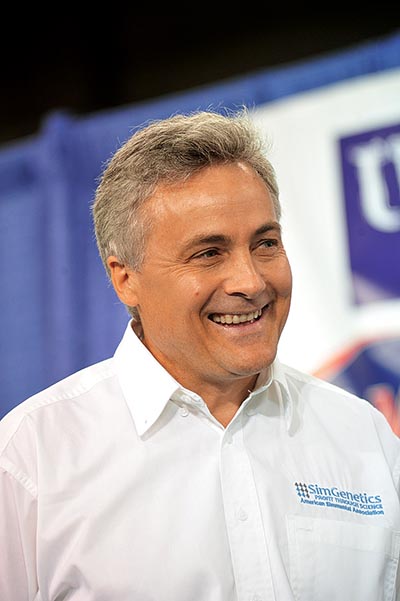 Wade Shafer, PhD, Bozeman, Montana
In 2013, Wade Shafer became the sixth executive vice president of the American Simmental Association, joining Dale Lynch, Don Vaniman, Earl Peterson, Brian Kitchen, and Jerry Lipsey. He has maintained a legacy of management that has enabled the organization to continue its leadership within the beef cattle industry. Shafer grew up on his parents' Shoestring Ranch located near Detroit Lakes, Minnesota, the oldest child and only boy in a family that included his four sisters. Shoestring Ranch began a half-century affiliation with the Simmental breed in 1972.
He matriculated at nearby North Dakota State University, receiving a bachelor's degree in animal science; then enrolled at Colorado State University where he earned a master's and PhD in animal breeding and genetics while concentrating on quantitative genetics and bio-economics simulation modeling. Returning home to manage the ranch, he expanded what had been a hobby farm to 500 head and added cooperators representing around 500 head. During that period, up to 200 bulls were marketed annually. The herd was dispersed in 2001.
A life-long fascination and understanding of science led him to accept a position with the ASA under Dr. Jerry Lipsey. When Lipsey retired in 2013, Shafer was the obvious choice to move into the EVP position.
Now in his ninth year at the helm, he has reinforced and enhanced a continued emphasis on beef cattle science, which has been the lifeblood of the Association since its inception. He has assembled a staff of industrious, dedicated professionals who worked tirelessly to support members and keep the organization on an even keel during the difficult COVID-19 pandemic.
Under his watch, International Genetics Solutions (IGS) has grown beyond expectations to include over 20 beef cattle organizations from four countries and is now the largest genetic evaluation of beef cattle in the world. Significantly, Shafer also directed the creation and integration of ASA's economic indexes and oversaw changing of the field staff model.
In addition, Shafer engineered sale of the original ASA headquarters, resulting in enough capital to build a new, modern building, while providing an infusion of funds for the ASA treasury.
Shafer and his wife Kathy have four children and four grandchildren.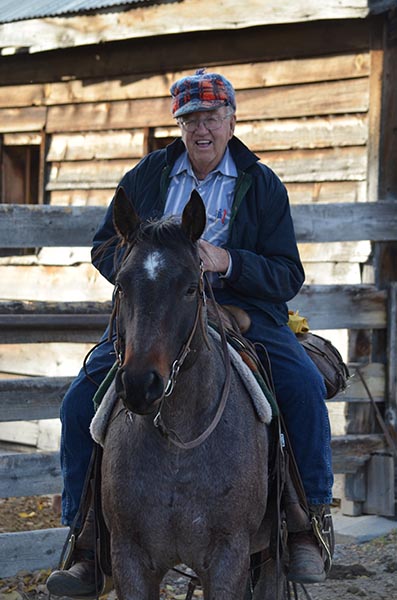 Gib Yardley, Beaver, Utah
Gilbert "Gib" Yardley traces his ranching operation back to 1856, when his great-grandfather and 13 other men settled in the Beaver River Valley of south-central Utah and focused on making a living with cattle of mixed breeding. Over the years, various breeds have been used. In 1920 and again in the late 1930s and '40s, Herefords were brought to the area from Kansas and Colorado. A few years later, Angus bulls were introduced in a crossbreeding scenario.
Then in the late 1960s, when Simmentals and other European breeds were first brought to North American, Yardley took a trip across the Canadian border to check them out and liked what he saw. In fact, he liked them so much that he promptly introduced Simmental and Maine Anjou bulls, providing beneficial heterosis.
Older cows are required to winter on open range without hay, must calve on their own and bring in a profitable calf. Cows that cannot hold their own under those conditions are rigidly culled. This past spring, Yardley held his 49th Annual Sale. As usual, cattle sold to repeat buyers from several states throughout the West and beyond.
He is a strong believer in promotion through attendance at major livestock events, maintaining a presence at such events as the National Western in Denver; the Cow Palace in San Francisco; the Royal in Kansas City; the North American in Louisville; and the Pacific International in Portland. In 2006, he was singled out for honors during the National Western's 100th-anniversary celebration.
He has built a reputation as a keeper of his faith, his family, his cattle, and his land. Though a confirmed bachelor for many years, shortly after being trampled by a rank cow while ear-tagging her calf, Gib asked Denise Evans to marry him, even while he was being patched up in the emergency room. Gib and Denise are parents to seven girls and one boy. Not surprisingly, his kids can brand a calf and know how to read a pedigree.
In a joint statement, Gib's children were effusive in their praise. "All of us grew up working right beside Dad and we think we learned from the best. Yardley Cattle Company is a family operation where family values are core to our business success. Dad has believed as much in raising solid children as in producing solid cattle."
Details

Created: 04 September 2022
Hits: 565